BC SPCA staff are hoping a brave kitten in Williams Lake who must lose a leg will get some help from his animal-loving friends. Sketch, found with his mom and siblings in an empty barn, was born missing most of one of his paws.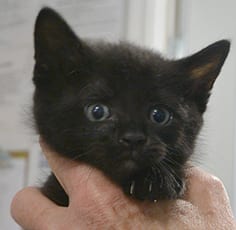 "In true trooper fashion, little Sketch continued to try to walk normally, but this caused sores and additional damage to the stump of his leg," says Williams Lake Branch manager Liz Dighton. "Amputation was the only option, but this brave little guy can still live a full and active life as a 'tri-pawed' member of the family."
The medical costs associated with Sketch's surgery and care are estimated to be nearly $2,000. A non-profit organization, the BC SPCA relies primarily on public donations to carry out its life-saving work in helping the province's most vulnerable animals.
When Sketch is ready in a few weeks, he will be available for adoption.
"He's such a cute, snuggly kitten! He loves to curl under your chin or stretch up so you can give him belly rubs," Dighton says. "We just want to give him the chance to live out the rest of his nine lives in a loving forever home."
If you can help Sketch and other animals like him at the Williams Lake SPCA, you can donate online at spca.bc.ca/medicalemergency or in person at 709 Bond Lake Rd., Williams Lake.