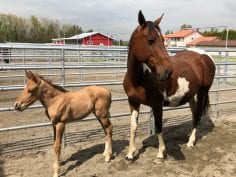 Help us name Sweat Pea's foal, born at our Surrey Good Shepherd Barn on April 22, 2018. While we do not know much about her history or any previous training she may have had, Sweat Pea is just as sweet as her name sounds.
We would love the public's help in naming Sweet Pea's foal and will be taking suggestions until the end of the day May 8, 2018 (11:59pm PST). You can send your suggestions in here.
Sweat Pea will be adopted out with her foal,  if you are interested in  meeting them both, please email rescues@spca.bc.ca to set up an appointment. Or, call the Surrey Education & Adoption Center at 604-574-1711 to leave a message for our barn staff. Any adopter should be experienced with horses and foals. Please note that while cats, dogs and rabbits in our care are spayed/neutered, only stallions are gelded, and mares are not spayed.
The BC SPCA currently has 25 horses in care, there are currently five horses residing at our Good Shepherd Barn.