Bob Fawcett, former general manager of the Whistler-based Howling Dog Tours, pleaded guilty today to causing unnecessary pain and suffering to a number of sled dogs near Whistler in April 2010.  In April 2012, Fawcett was charged with one count of animal cruelty under Section 445.1(1) following an extensive BC SPCA investigation. A sentencing date is scheduled for November 22, 2012.
"We hope this plea results in swift and appropriate justice in this very disturbing case," said Marcie Moriarty, general manager of cruelty investigations for the BC SPCA.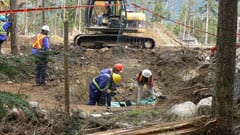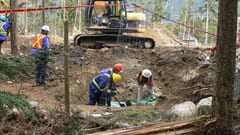 Gruesome details of the mass killings were leaked to media in January 2011 after Fawcett filed a successful claim with WorkSafe BC, saying the cull left him with post-traumatic stress disorder. Fawcett also posted details on a PTSD website, describing how the panicked animals were shot or had their throats slit before being dumped in a mass grave on the property.
The BC SPCA immediately launched an investigation and in May 2011, a team of BC SPCA constables, veterinarians and forensic scientists completed the grisly task of exhuming the bodies of 54 sled dogs from the grave near Whistler.
Evidence gathered at the site formed the basis for a BC SPCA report submitted to Crown counsel in September 2011 recommending charges against Fawcett. The report contained more than a thousand of pages of evidence, including extensive forensic evidence collected at the gravesite using state-of-the-art scientific techniques.
"While the scope and cost of the sled dog investigation were unprecedented in BC SPCA history, to ignore such disturbing allegations was not an option," said Moriarty. She said the BC SPCA also recognized that the case would have far-reaching implications for working animals in B.C. and across Canada.
"This investigation was about uncovering the facts in a particular case of alleged animal cruelty that shocked people around the world," says Moriarty. "But it was also about ensuring that all sled dogs and other working animals are protected from suffering and abuse. Only by fully investigating these allegations could we send a clear message that we are a humane society where brutality and violence against animals will not be tolerated."
The BC SPCA was a key contributor to a government task force that was created last year to examine ways to ensure more humane treatment for sled dogs and to a new sled dog code of practice that adopted in February 2012.
If convicted, Fawcett faces up to five years in jail, a fine of up to $75,000 and up to a lifetime ban on owning animals.
Moriarty says the BC SPCA is planning a memorial for the slain sled dogs on Nov. 2. "We have handled the remains of the dogs with the utmost respect and dignity and, in seeking justice in this case, we hope that they will finally be able to rest in peace."
Photo caption: SPCA constables and anthropologists exhuming sled dog bodies
The British Columbia Society for the Prevention of Cruelty to Animals is a not-for-profit organization reliant on public donations. Our mission is to protect and enhance the quality of life for domestic, farm and wild animals in B.C.