A BC SPCA animal protection officer, with the help of two Surrey firefighters, rescued a kitten trapped in a space between the framing and foundation of a home in Surrey. Good Samaritans heard a cat crying on the property and after searching for the cat on their own with no luck, called the BC SPCA's Animal Helpline.
"The property occupants reported that they had been hearing the sounds of a cat crying on and off for four days," says Mark Vosper, regional manager of animal protection (Lower Mainland & Fraser Valley), BC SPCA.  "Together with the landlord they had tried to locate and free the cat but were not successful. They called the BC SPCA's animal helpline and asked for assistance."
When the SPCA animal protection officer arrived on the property, she was shown to the area where the occupants reported hearing cat cries. She immediately heard what sounded like a young kitten vocalizing from within an exterior portion of the home. "The kitten sounded distressed and was not visible," says Vosper. "The animal protection officer walked the exterior of the home and looked into adjacent interior areas but the only way to access the space appeared to be from the crawl space underneath the home."
The landlord was contacted and came down to the property. He was very concerned about the cat's welfare and consented to freeing the cat by whatever means necessary, including damaging the property. "The animal protection officer contacted the Surrey Fire Department for assistance," says Vosper. "Two firefighters from Hall 4 arrived and after trying to access the area from the crawl space, they cut out portions of the exterior of the home. Two and a half hours later they were able to free the four-week-old black kitten. There were no other kittens found."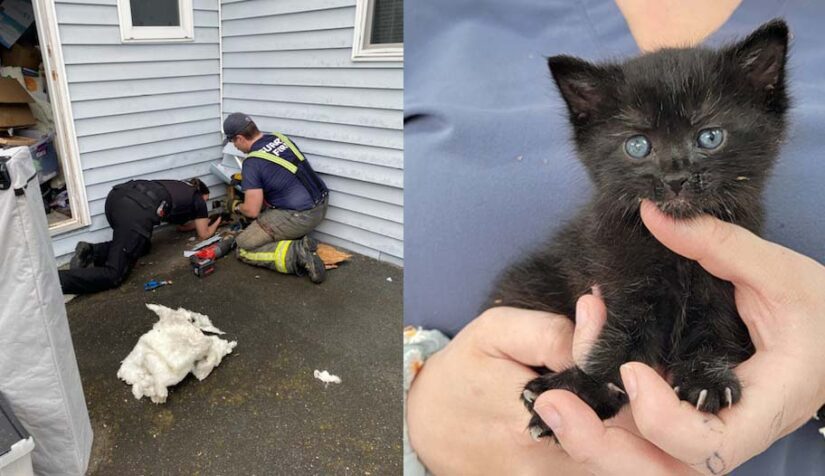 Vosper adds that the kitten was taken to an animal hospital for examination. "The kitten had some abdominal pain that was possibly the result of being stuck," says Vosper. "She was prescribed pain medication and requires syringe and bottle feeding." The kitten was then taken to the Abbotsford BC SPCA and is being cared for in a BC SPCA foster home.
Sadly, it is suspected that the kitten's mother may be a black adult cat that had been hit by a car and was found deceased near the home. "This kitten's fighting spirit and loud cries saved her. After at least four days of being trapped, she is now resting happily," says Vosper. The kitten, who was nicknamed "Lenna", which means "lion strength" or "lion-hearted", by the animal protection officer who helped rescue her, is available for adoption.