The BC SPCA has seized 53 animals, including 18 horses, 18 large and small-breed dogs, 15 birds and two cats from a property near Houston, B.C. Numerous fish kept in filthy conditions were also removed in the seizure, which took place on Aug. 28.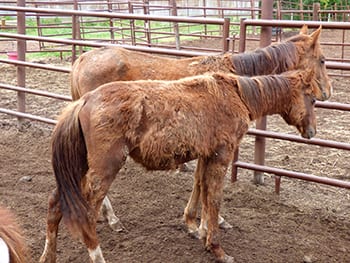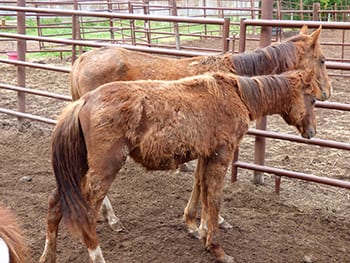 "The horses were kept in unclean and substandard conditions. Many were underweight and several had overgrown hooves and suspected parasites," says Marcie Moriarty, chief prevention and enforcement officer for the BC SPCA. "There was no food present in any of the enclosures and most of the horses had no access to water."
The dogs, which included a number of German shepherds, poodle crosses, two Chinese crested dogs, a Newfoundland cross, a pit bull, a Maltese cross and a bloodhound cross, were being kept in unsanitary conditions and had dental issues and medical concerns, ranging from lacerations to extreme matting.
Many of the dogs also appear to be poorly socialized and fearful. Moriarty noted that the 15 birds – cockatiels, love birds, quail, budgies and a conure – were also badly neglected and housed inappropriately. The animals are all now in the care of the BC SPCA and the investigation continues.
"The SPCA would be grateful if any members of the public are able to provide hay for the horses while they are in our care. Arrangements can be made through Smithers Feed Store, 3242 Highway 16 in Smithers (250-847-9810).
Financial donations to help offset the care and rehabilitation costs for the seized animals would also be gratefully received. Donations to the BC SPCA cruelty investigations department can be made online at spca.bc.ca/donate or at 1245 East 7thAvenue, Vancouver, B.C., V5T 1R1.
The BC SPCA investigates more than 8,000 cases of animal cruelty each year and is funded by public donations.
The British Columbia Society for the Prevention of Cruelty to Animals is a not-for-profit organization reliant on public donations. Our mission is to protect and enhance the quality of life for domestic, farm and wild animals in B.C.