The British Columbia Society for the Prevention of Cruelty to Animals (BC SPCA) is seeking the public's help in identifying the owner of a dog struck by a truck in Mission last week.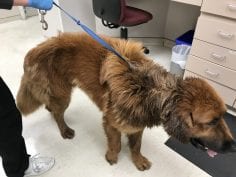 "The stray dog was hit by the front bumper of a truck on Dewdney Trunk Road in Mission, near the regional garbage dump," says Eileen Drever, senior animal protection officer for the BC SPCA.
"A Good Samaritan who witnessed the accident stopped to check on the dog and rushed him to a local veterinary clinic.
Drever says the veterinarian alerted the BC SPCA after noting that the dog, a Tibetan mastiff, was extremely thin – scoring only about 1.5 of the body conditioning scale of one to nine.
"A dog of his breed should weigh 60 kilograms but this dog weighs only 35," says Drever. "He was also suffering from other signs of neglect, including ear and skin infections and lesions."
The dog is now in the care of the BC SPCA's  Maple Ridge Branch.
Drever says the SPCA is hoping to find the dog's owner to determine if the dog has been wandering for some time or if there is another reason for his poor condition.
Anyone with information is asked to please call the BC SPCA Animal Helpline at 1-855-622-7722.