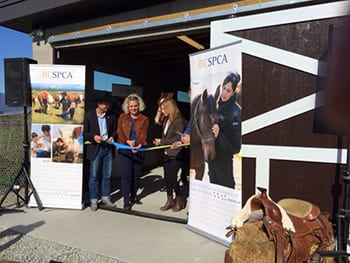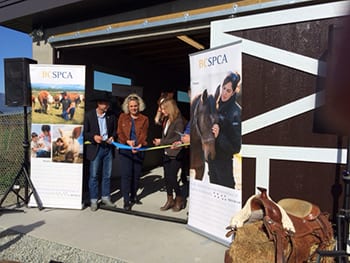 Government and community representatives joined BC SPCA staff and volunteers on Oct. 14 to officially open the BC SPCA's new Recovery & Adoption Barn in Kelowna, which will temporarily house horses and farm animals rescued from abusive or neglectful situations in the Okanagan region. The new 2,500-square-foot facility, located adjacent to the existing BC SPCA Kelowna shelter at 3785 Casorso Road, includes six indoor-outdoor stalls, a tack room and hay storage area.
Those attending the official opening included B.C. Minister of Agriculture Norm Letnick, BC SPCA chief executive officer Craig Daniell, BC SPCA president Marylee Davies, members of the BC SPCA board of directors, city councillors and Kelowna SPCA donors, staff and volunteers.
Craig Daniell said the new facility is urgently needed to provide temporary housing for injured and abused farm animals in the region. "Many people think of companion animals when they think of the BC SPCA's work, but farm animals represent a significant focus of our organization's rescue and advocacy work. Last year we took 117 horses and 143 cattle into custody through cruelty investigations and spent in excess of $200,000 for boarding, hauling and other costs associated with their care. Having a facility where we can care for these animals ourselves will make a tremendous difference in terms of cost efficiencies and in the direct care we can provide."
The new BC SPCA Recovery & Adoption Barn is funded through support from the B.C. government, a grant from the Central Okanagan Foundation and through the generosity of SPCA donors.
"The BC SPCA has launched an eight-year, $50-million Facilities Development and Services Plan to replace or refurbish SPCA buildings across the province and this new facility was identified as a priority," says Daniell. "We are truly grateful to all those who have enabled us to provide the best possible care and shelter for all animals in our care, including farm animals. In particular we would like to acknowledge the provincial government, who earlier this year announced funding towards our provincial capital plan."
"As we can see today at this new Kelowna facility, the B.C. government's $5 million funding commitment is directly supporting the BC SPCA and their important role in ensuring all animals in B.C. are treated with due care and respect," said Agriculture Minister Norm Letnick. "We look forward to continuing to work closely with the BC SPCA, and together, speaking for those that can't speak for themselves."
In addition to horses and cattle, the SPCA rescues a wide range of large animals who cannot be housed in traditional shelters, including sheep, goats, pigs, llamas, alpacas and emus.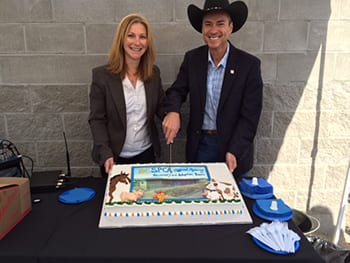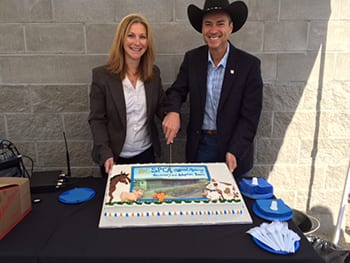 Pictured above: Minister Letnick and branch manager, Suzanne Pugh
The British Columbia Society for the Prevention of Cruelty to Animals is a not-for-profit organization reliant on public donations. Our mission is to protect and enhance the quality of life for domestic, farm and wild animals in B.C.