**UPDATE**
Online sales sold out but limited quantity available to purchase Saturday, April 3 – 10:00 to 4:00 at Orthoquest, 1015 Richter St., Kelowna
With Easter around the corner, the BC SPCA in Kelowna is "hopping" to make it a little extra special for kids this year with some special baskets.
Geared for kids aged four to eight years old, the baskets contain a variety of spring-like goodies, including everything from BC SPCA stickers and notepad to a copy of Bark! Magazine to a cat ear headband, as well as some additional goodies and treats, including, of course, chocolate.
Children will also get a copy of the BC SPCA Humane Education's own Bunny Workbook. Featuring Harry, a fictional rabbit who represents a lot of bunnies in care, the book helps young animal lovers to consider the realities of adopting a bunny.
After cats and dogs, rabbits are the third most popular pet for adopters. But it's important to remember they have very unique behaviours that are often misunderstood. Though most people associate rabbits with Easter time, they should not be given as a gift. Animals are always a big commitment. They need to spend hours outside of their cage every day, be kept indoors and require a dedicated and knowledgeable guardian for their specialized care.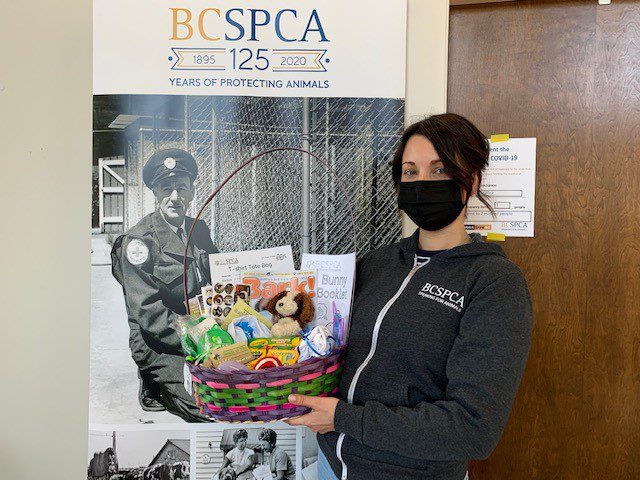 "Our Event Committee has been brainstorming different ideas, and the Easter baskets were an idea we thought children would not only enjoy and but also have the opportunity to learn a little about caring for animals" says Karin Massar, senior officer of Community Giving at the Kelowna BC SPCA. "With all in-person fundraising events cancelled or postponed, we were excited to do something new and different."
The sponsors for the baskets include: Bark n' Fly Dog Daycare & Boarding, Okanagan Office Systems and Your Dollar Store with More.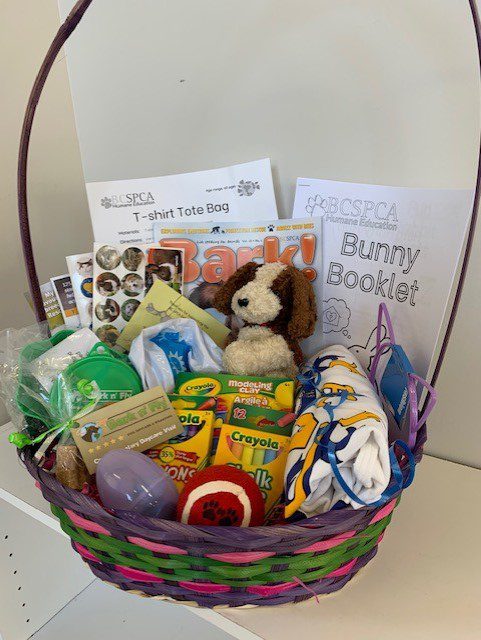 In keeping with safety guidelines, those interested can purchase a basket for $30 or two for $55 basket online using the link above. Baskets will be available from March 15 through to April 1 and will be available for pickup at Orthoquest Pedorthics at 1015 Richter St in Kelowna. Bring your phone or a printed-out receipt of the purchase for pick up. The business is open 9am – 5pm weekdays and 10am – 4pm on Saturdays. Please be aware that they are working within the current health guidelines so they do have an occupancy limit and do require you to wear a face mask when you enter the store. Please be courteous of these rules. The fundraiser is exclusive to the BC SPCA Kelowna location with all funds going directly to support it.