The BC SPCA in Kamloops is expanding its pet food bank outreach to help pet guardians who may need support in caring for their animals.
"We have all gone through challenging times with the COVID-19 pandemic, and it has had a financial impact on many families," says Charleen Holloway, the BC SPCA's manager of animal centre services in Kamloops. "The BC SPCA in Kamloops was very fortunate to already have strong relationships with community agencies, and this allowed us to seamlessly expand our outreach support for pet guardians and help vulnerable animals when the pandemic hit." She says keeping families and pets together is especially important at this time when many people are experiencing loneliness in self-isolation.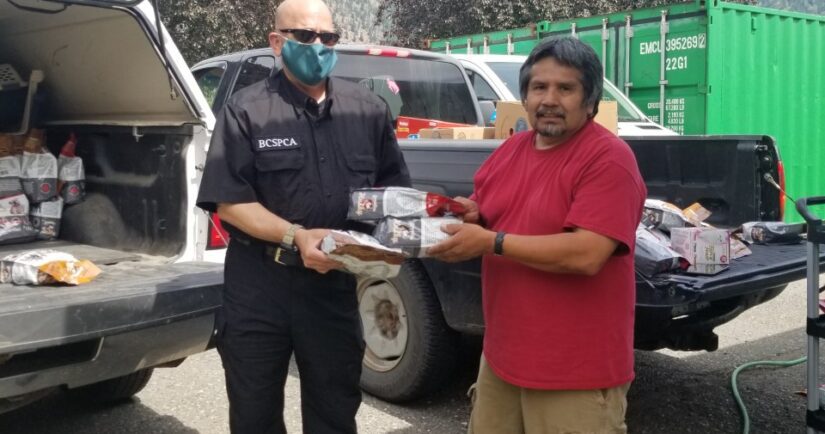 With generous donations from the community, the BC SPCA has been able to distribute nearly 1200 kg of dry pet food, 840 cans of wet food, and 207 kg of cat litter to pet guardians in need. "We've been partnering with the Kamloops Food Bank, Four Paws, the Salvation Army, Mustard Seed, the Barriere Food Bank, the BC Wildlife Park and the District of Lillooet Bylaw Services," says Holloway. She adds that the SPCA has also been able to distribute pet food supplies to smaller and more remote communities in the area. Recently BC SPCA constable Kent Kokoska coordinated with Everett Tom of the Lillooet Friendship Centre to ensure a large donation made its way to Lillooet.
Holloway said the BC SPCA has an ongoing need for public donations of unopened dry and canned pet food and cat litter. "If anyone is able to donate these supplies, they can be dropped off daily between 8:30 a.m. and 4:30 p.m. at the BC SPCA in Kamloops at 2816 Tranquille Road. We are so grateful for these donations and we will ensure that they get distributed to pet guardians in need." Individuals needing assistance with pet food, or community groups interested in partnering with the SPCA, are invited to call the BC SPCA in Kamloops at 250-376-7722 or email kamloops@spca.bc.ca.