It is the season for gratitude, and for the past year and a half pet owners across British Columbia have given thanks for their animals. "Our furry family members have been a gift to help us through pandemic times, but at the same time, many pet owners have been severely challenged by illness, job loss and other impacts of COVID-19," says BC SPCA outreach specialist Diane Waters.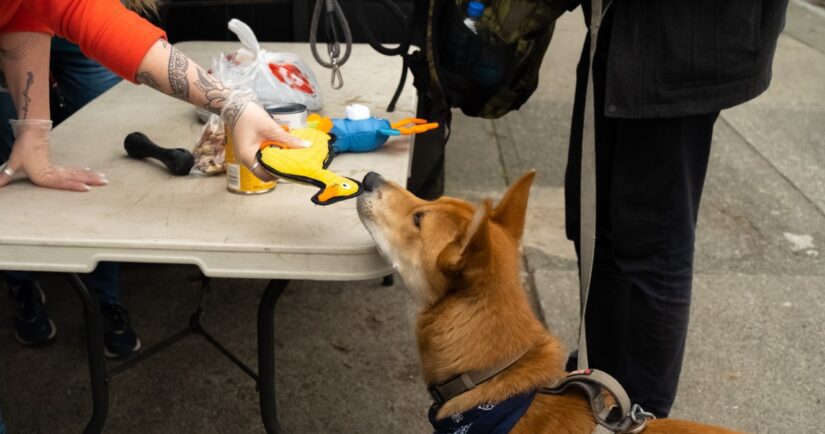 The need for support has increased exponentially for those pet owners and, in response, the BC SPCA developed a provincial animal food bank in March 2020 to help vulnerable pet owners in our communities, including people experiencing homelessness, mental health struggles and seniors.
"This program has had an impact on countless individuals and families, with many saying that the program has been a "lifesaver" in these challenging times," says Waters.
Gemma*, a senior who works part time to supplement her small pension, has been collecting food and litter through the program to care for her own three cats Sandy, Dolce, and Henry, as well as other cats she supports. Gemma says the program is a "godsend for sure", since stretching her budget to cover her own food and gas doesn't leave much money for pet supplies. "Sometimes she even bikes to the food bank to save gas money," says a BC SPCA staff member.
"The BC SPCA animal food bank strives to be accessible to everyone, which is why there are countless ways for people to pick up food," adds Waters. "In addition to pick-up from BC SPCA locations, we have partnered with 93 organizations across British Columbia, including homeless shelters, non-profits and local food banks in the area." The BC SPCA food bank program also organizes drop-offs to remote and Indigenous communities throughout the province to ensure accessibility for all pets.
To date in 2021, the BC SPCA has provided vulnerable pets with 68,552 kg of dry pet food and 43,511 cans of wet food. This means we have provided a week's worth of food to 31,968 pets in the community. "It is the generous support from the community that has enabled us to reach clients such as Gemma," says Waters. "Even with the Covid-19 pandemic we have had countless donors help us make the food bank program a success."
All BC SPCA locations have a contactless system where donations of unopened pet food and litter can be dropped off in donation bins or at the front door of the shelters.
More details on the program, visit our food bank outreach page or contact our Animal Helpline at 1-855-622-7722 to learn about how to access pet food bank services close to you.
*Name changed to maintain anonymity
---
---