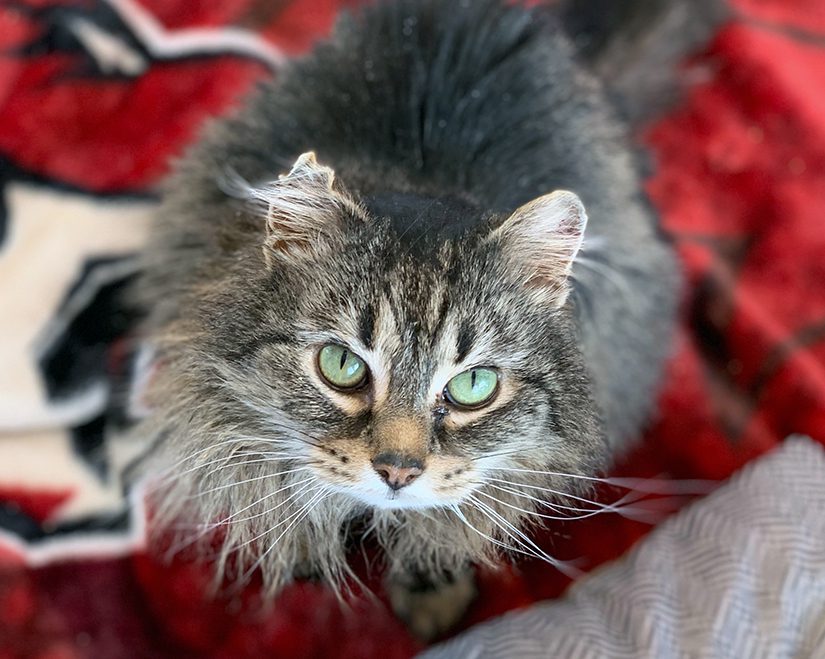 Beautiful Ava escaped from the car while her family was traveling through Cache Creek on the way to visit a relative. Her family searched for their beloved eight-year-old cat and was heartbroken thinking they would never see her again. They had adopted Ava when she was just a seven-week-old kitten.
Ava loved sleeping on their bed at their home in Vancouver and had a voracious appetite. Her family stayed at the spot where she went missing searching desperately for her until about 4 a.m. They called her name and shook a bag of her favourite treats hoping she would come back to them. Her guardians thought that Ava may have hitched a ride on another vehicle that had been waiting nearby because she was nowhere to be seen.
Ava's family drove up to Cache Creek the following three weekends to search for her, knocking on doors in the neighbourhood to ask if anyone had seen her and putting up flyers and posting ads online. They received a few phone calls but none of the cats people had seen turned out to be Ava. There was a coyote den nearby where she went missing and a fast flowing river – the odds were stacked against a lost cat surviving outdoors in such a remote area.
More than a year later, a Good Samaritan found an injured stray cat taking shelter from the extreme cold under their deck and brought her to the BC SPCA South Peace Branch in Dawson Creek.
The cat was wearing a breakaway collar and had a bandana tangled under her arm, which created a deep wound. She was matted and had permanent damage to the tips of her ears from frostbite. SPCA staff rushed her to the vet. Her wound was stitched up and she was given pain medication to keep her comfortable as it healed.

This cat had an ear tattoo linking her to a vet clinic in the Lower Mainland. SPCA staff contacted the vet clinic and got in touch with the cat's guardians, who were overjoyed to hear that Ava had been found. She had been missing for 16 months. This friendly, outgoing and talkative feline will be transferred down to the Lower Mainland through the SPCA's Drive for Lives program to be reunited with her happy family.
Ava was able to be reunited with her family because she had permanent identification in the form of an ear tattoo. Pets with ID have a greater chance of being returned to their guardians if they happen to get lost.
Make sure your pet has a microchip registered with the BC Pet Registry plus an ear tattoo and collar with the correct address and phone number. Having up-to-date ID gives your pets the best chance of finding their way back home.