Lonely, tethered and without adequate outdoor shelter: it's what one young dog in the Capital Regional District experienced before finally receiving the much-needed protection and care he desperately needed. This was thanks to a team effort between concerned citizens, BC SPCA special constables, and one municipality's bylaw officers. What's more, the persistence of those involved will undoubtedly help animals in the future, should they face the same obstacles.
"This all started as a barking call to the municipality's animal control," says Erika Paul, senior animal protection and outreach officer with the BC SPCA, "and had that citizen call not come in, who knows what might have happened." When the community's animal control officials responded to the call, they noticed the dog's tether was tangled, and that the pup didn't have adequate shelter. That's when the BC SPCA's special constables became involved.
"When we attended, we could see this poor young boy was so weak. It appeared he'd been isolated for barking too much." Paul says they told his guardian he would need to ensure the dog had proper shelter. The guardian complied at the time, but officials were unfortunately called to the residence again."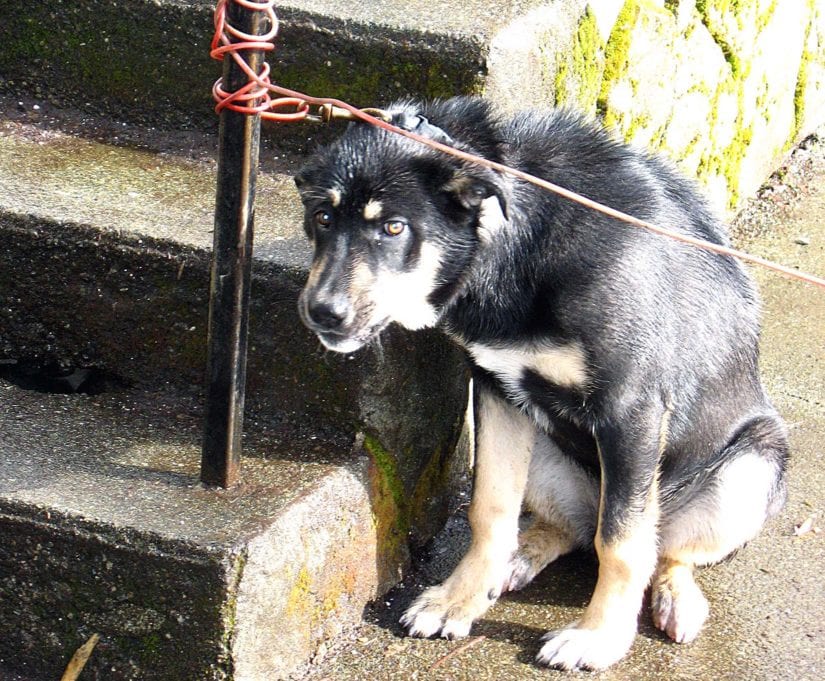 At the next call, it was raining – and the dog was found cold and soaking wet, once more tangled up in a tether. Paul says it was awful to see. "We took photos of him, and it just broke my heart to see him alone once again." Paul said they had yet another conversation with the guardian, and told him he'd need to not only improve the pup's shelter, but would also need to make sure he had access to clean, potable water.
"It was mind-boggling to us when we received yet another call to the same area," says Paul, "it felt like Groundhog Day. At the time, our constables and the bylaw officers were feeling so hopeless in this situation. Everyone desperately wanted to help this poor dog, but we were stonewalled because the only thing that could be done at the time was to have the bylaw officer write up a warning – which, in the grand scheme of things, carries little weight if we're trying to get the guardian to change."
Eventually the chorus was heard, and the municipality amended their bylaws to make sure that no dog would ever have to go through the same arduous, painstaking process before changes could be made. "Once the amendments were agreed to, officials like us could take part in collaborative strategies allowing us to help serve and protect animals."
Paul says situations like this are a perfect example of how reaching out to elected officials can make a difference. "This dog's story is a reminder: we need to look out for one another. When we take action and say something, we give ourselves a better chance of making a difference in the lives of people – and in this case, animals – in our neighbourhood. It's up to us to look out for them; they are a part of our community. It's up to us to advocate for their comfort and care."
Now is your chance to speak up, welcome your new officials and ask them to represent animal needs in your community!