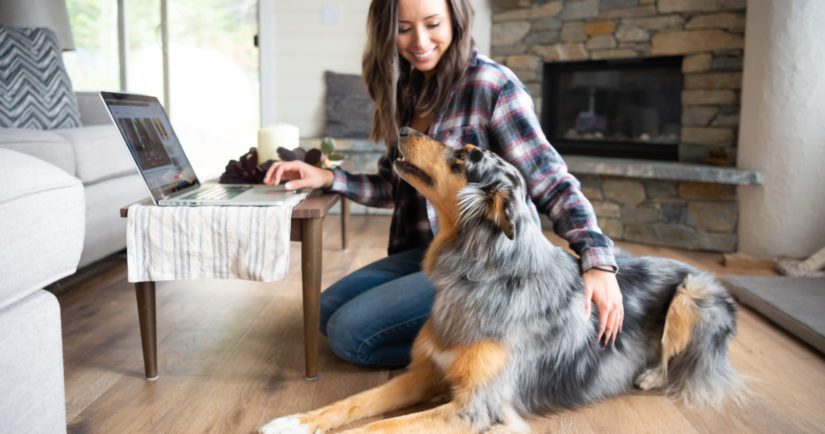 An unexpected situation is keeping you home. The silver lining is the extra time you have to spend with your family, including furry ones. For your dog, it means more time with you, playing and getting your undivided attention. The challenge? Balancing the time so you can do some work, look professional on that video conference, and keep your dog happy while you share the home office.  
We reached out to our AnimalKind accredited trainers for tips and tricks that will help make the most out of self-isolating with your furry friends.
Snuffle Mats
A snuffle mat is a handmade treat toy that provides a dog the fun and time-consuming opportunity to sniff and search for hidden treats. The snuffle mat consists of fleece strips tied on to a rubber mat with holes in it.
Christina Young of Positive Dog: "Snufflers are typically used with kibble or small dried treats. Food is accessed not by chewing or by hitting the toy around, but simply by sniffing it out."
Christina recommends them as an excellent choice for reactive dogs and senior dogs. Snuffle mats are available at pet supply stores, but it could be a fun project for a stay-at-home day, watch the video below:
Online Dog Training Classes
Right now you're at home with your pup, so why not use this as an opportunity to teach your dog some useful dog training methods available to you online. AnimalKind training company Proud of My Dog offers guardians a free online canine food games course so they can experience what it is like to take dog training classes online before enrolling in a longer one.
These online resources are a great option, especially now that you have the time to practice what you learn:
In addition to these courses, one-on-one private online training sessions are also offered by many AnimalKind trainers. Keep in mind as well, these accredited companies use only positive reinforcement training methods, so the time you spend with your dog practicing what you have learned will translate into happy times for you both.

Dog Enrichment
When thinking about providing extra enrichment in your dog's life, the best place to start is to consider what makes them happy. Some dogs are food motivated, while others find the most joy from playing with toys.
Rotating toys is a practice that will bring excitement to your dog every time a "new" toy is rediscovered. AnimalKind dog trainer Valerie Barry (Dog Partners) does this with her dog Jack, and he loves it. "What I've started doing is leaving him six or so stuffed toys to play with. I put the rest away, and then I rotate them out on a reasonably regular, but not predictably regular basis."
Try hiding your dog's toys around the house in different, dog-accessible locations and teach your dog to "find it".
Put the toys away in a toy box so your dog can enjoy bringing each one out and spreading them about the house again.
Scent Games
Fulfilling sniffing is the term used by AnimalKind dog trainer Allison Schaefer of Ethical Canine. The idea behind scent games is using your dog's natural sniffing skills in a playful way.  The great thing about these games is that they require little to no preparation. The only items you'll need are stinky and delicious food treats.  
Start by hiding a treat under a blanket or towel and encouraging the dog to find it. When they indicate they can smell it, help them get it out. Progress to using larger blankets and wrap the treat up inside. Allison has a Scent Games at Home downloadable PDF that includes 5 scent challenges for you to try.
Try 2 New Tricks
We teach our dogs tricks for so many reasons, mainly so that they have something to do with their energy but also as a bonding exercise. AnimalKind accredited trainer Amelia Kellum, of Wag the Dog shares two tricks to get you started:
1.) The Go-Around
A trick that requires three things: your dog, some treats and a small object. It only takes three steps: cue, action and reward. Watch below:
2.) Peek-a-boo
Atrick where your dog learns to pop up between your legs. Watch below: 
---
Check out a full list of AnimalKind Trainers and learn more about humane dog training.
RESOURCES