There has been so much interest in the 17 puppies surrendered from an Interior property in December, 2019. All of the puppies were adopted into loving homes and the adult dogs will be going to their forever homes next week.
Unfortunately, one of the adults, a senior dog called Suka, was going into renal failure. Her condition would have been exacerbated by any kind of pain medication or desperately needed treatment. Suka was in constant pain and the decision was made to end her suffering. Staff are heartbroken and truly wished that Suka could have gone on to live a better life.
The other four adult dogs will have many wonderful years ahead of them. They are going in for their spay/neuter surgeries this week before heading to husky experienced homes. SPCA staff and volunteers have taken them out for lots of walks and giving them lots of time to play outdoors. Their coats are being brushed daily to keep these beautiful dogs looking their best.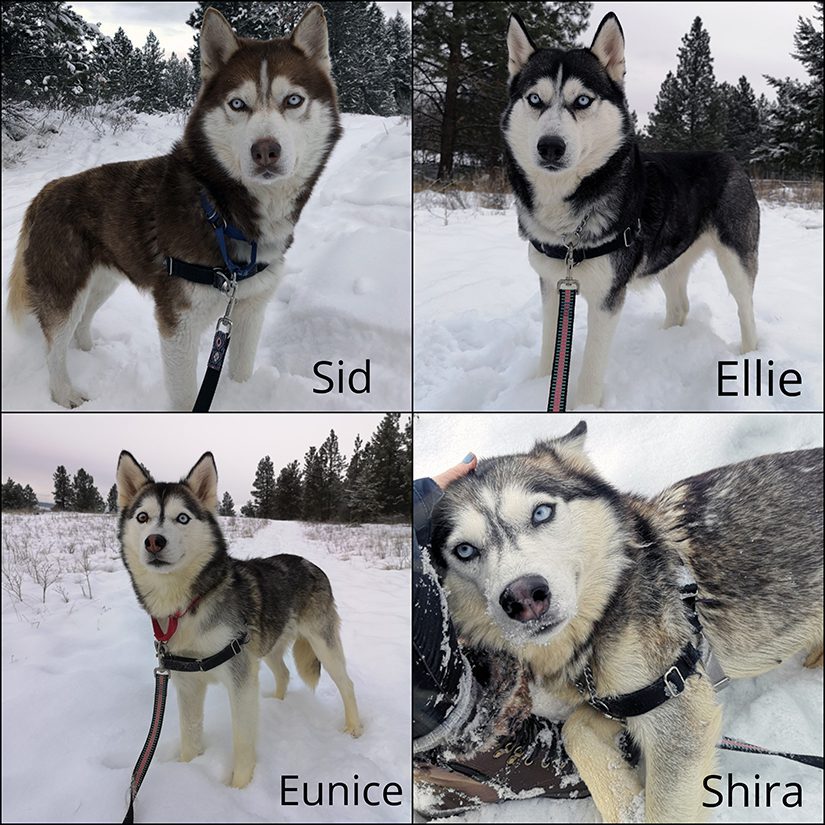 The adults are becoming more confident meeting new people and are getting used to indoor sights and sounds to prepare them for life with their new families.
The BC SPCA is grateful for the outpouring of support and adoption interest for these wonderful dogs and puppies. It took a lot of time and resources to get these guys home. If you'd like to donate to the costs of their care, please do below:
---
Last little husky puppy finds his forever home
Original story: Jan. 20, 2020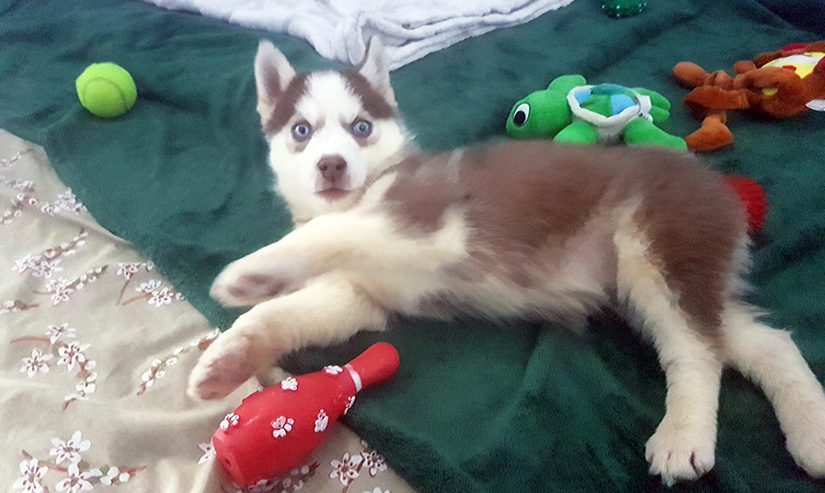 The smallest of 17 husky puppies surrendered from an Interior property has been adopted. The puppy is named Uki, which means survivor in Inuktitut and he has certainly lived up to his name. Uki was the weakest pup but his test results revealed that he was going to make a full recovery.
Uki's new family was overjoyed to hear that their adoption application was approved. They wanted to surprise their eldest son, who had been asking for a puppy for years. The family told their son they would stop by the South Okanagan/Similkameen SPCA just in case there was a dog available.
Branch staff caught the moment their son first learned that they would be adopting Uki on camera:
The BC SPCA received over 1,200 adoption applications for these puppies, who found homes in the Okanagan, Lower Mainland, Vancouver Island, Northern B.C. and Banff, Alberta.
Those who are looking to adopt other puppies from the BC SPCA can create an account and set up an email alert on the SPCA website to be notified when new puppies come into each branch.
Thank you to everyone who followed the story of these puppies. With your support, all of them received the daily care they needed until they were ready to find their forever homes.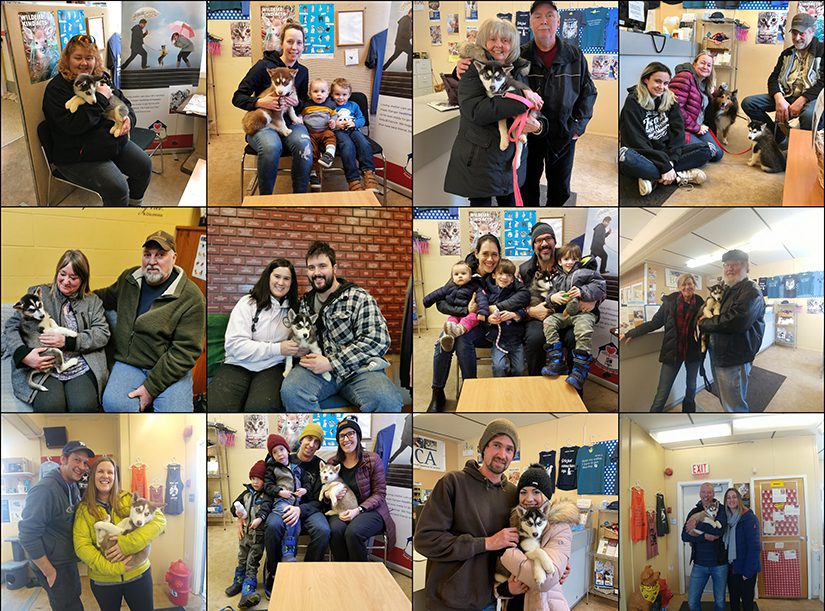 ---
BC SPCA announces names for 17 surrendered puppies
Original story: Jan. 3, 2020
The 17 husky puppies who were surrendered to the BC SPCA now have names. Their names were chosen from suggestions submitted by the public, which identified two themes: Northern and Norse Gods. The public voted for their favourite theme in an online poll and Northern was the clear winner.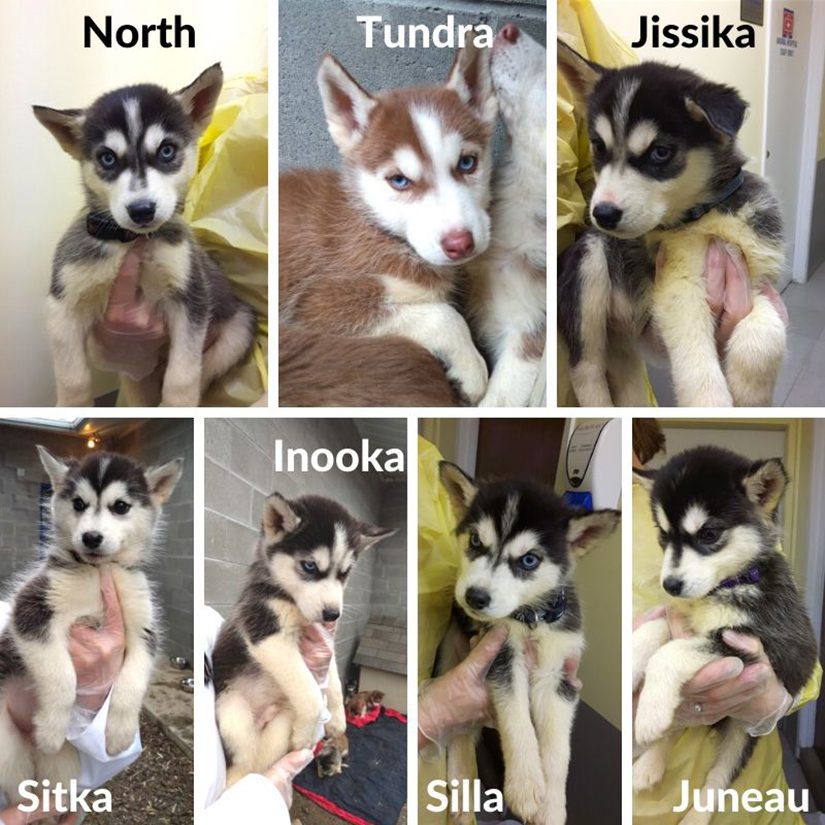 Most of the puppies are now ready for adoption. The smallest puppy, Uki, has some medical concerns and will require more time in care. Staff remain hopeful that he will live up to his new name, which is an Inuktitut (Inuit) word meaning 'survivor.'
The BC SPCA is grateful for the outpouring of love and support for these puppies, who had been living outside without adequate shelter on property in the Interior. These sweet pups came into care on Christmas Eve and have their whole lives ahead of them.
The puppies will be available from two SPCA branches and potential adopters will be required to travel to meet them in person to ensure that it will be a great match for everyone.
---
Apply to adopt a pup at:
 BC SPCA South Okanagan/Similkameen Branch
&
BC SPCA Vernon & District Branch.
---
---
17 puppies surrendered to the BC SPCA from Interior property
Original story: Dec. 27, 2019
The BC SPCA is asking for the public's help to care for 17 puppies and two adult dogs that were surrendered from a property in the Interior.
RCMP and animal control officers responded to a complaint and found the eight to 10-week-old husky puppies living outside in the cold and snow on the property. The owner surrendered the animals to animal control who held them overnight before transferring the dogs to the local BC SPCA branch on Christmas Eve. The exact location of these puppies is not being disclosed for their protection.
"It's a true Christmas miracle that these puppies were saved from neglect and brought in from the cold," says BC SPCA chief prevention and enforcement officer Marcie Moriarty. "We are grateful that the RCMP and animal control officers were able to get them immediate attention."
The puppies are being treated for worms and are in quarantine. Each puppy will be spayed/neutered and provided with all of their vaccines before they will be ready for adoption in late January, 2020.
"The branch is completely overwhelmed with caring for so many animals and is not accepting adoption inquiries at this time," says Moriarty. "Donations are encouraged to help cover their costs of caring for these puppies and adult dogs during the busy holiday period."
The BC SPCA will be holding a naming contest for the 17 puppies. Watch the provincial BC SPCA Facebook page for more details and a chance to name one of these adorable puppies.