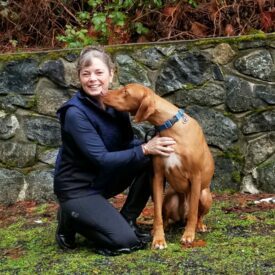 Nichola Wade has over 30 years' experience in the BC Public Sector.  She has held key positions as an Executive Director, Treaty Negotiator, and a Senior Policy Advisor.  Her last position before retiring in 2019 was the Executive Director, Strategy, Business Intelligence and Marketing in International Trade.
Previous postings included, Executive Director, Northwest Readiness at the Ministry of Community, Sport and Cultural Development; Director, Emergency Management BC; and Executive Director Community Engagement and Sustainability at the Olympic Games Secretariat.  At the Climate Action Secretariat, she was responsible for Strategic Partnerships and Outreach where she also led the government's carbon neutral commitment.
Nichola has a wealth of experience serving on non profit and corporate boards including several years on Swan Lake Christmas Hill Nature Sanctuary, Greater Victoria Public Library, Royal MacPherson Theatres Society, Victoria-Saanich CADORA, and the Elk Beaver Lake Equestrian Society to name a few.  She currently serves on the Vancouver Island Arabian Horse Association Board and on the Vancouver Island Salvation Army Advisory Board.
Since retiring from the BC Public Service Nichola has apprenticed as a dog groomer and currently works part time at Bark and Fitz Dog Grooming in Brentwood Bay.  She also volunteers in the community shopping for seniors with Sendial.  She and her spouse David, love to ski, hike with their dog Kofi and ride and compete with her horse PK.
Nichola built on her wealth of experience in project management, strategic planning and issues management in several terms as a District of Saanich Councillor and a prior term on the District of Central Saanich Council.  Nichola is known for her ability to build and maintain positive stakeholder relationships, and for her success in developing and implementing significant corporate policies, and financially sound, negotiated settlements.  Nichola has earned the respect of staff, peers, and superiors, as she capably manages available resources in a continually changing environment.  In 2006, Nichola was awarded the YWCA Woman of Distinction Award in the category of Public Service.  Nichola has an MBA from the Richard Ivey School of Business and is a certified Negotiator and Mediator.