Celebrate your child's birthday at the BC SPCA! We offer two-hour birthday parties that include:
Animal-themed activities, crafts and games
A guided tour of the shelter where kids can meet some of our adoptable animals
Hands-on time with specially selected shelter animals
BC SPCA goody bags
Age range: Kids ages 7 to 12 (including siblings).
Group size: Varies by location. Two adults maximum.
Deposit: A $50 non-refundable deposit is required when the booking is confirmed.
Cancellation policy: If a party is cancelled, the $50 deposit will not be refunded.
Party space books up quickly, so please give us as much notice as possible!
Looking to host an animal-themed birthday party at home? Check out our Pinterest page for ideas.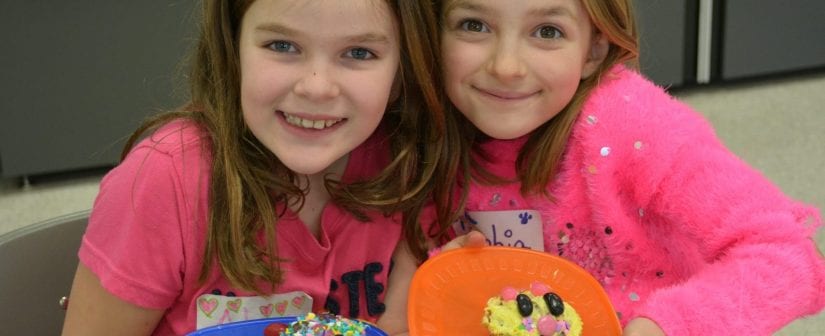 Locations
Birthday parties are available at these BC SPCA locations:
Kelowna
Saturdays and Sundays
Any 2 hours between 11:00 a.m. and 4:00 p.m.
$150 for a maximum of 10 kids
Contact Lily Churchill via email or call 250.861.7722 ext. 1715
Maple Ridge
Saturdays and Sundays
11:00 a.m. to 1:00 p.m. or 2:00 to 4:00 p.m.
$150 for a maximum of 12 kids
Contact the BC SPCA Maple Ridge Branch via email or call 604.463.9511
Nanaimo
Saturdays and Sundays
11:30 a.m. to 1:30 p.m. or 2:15 to 4:15 p.m.
$160 for a maximum of 10 kids
Contact Blaire Sigson via email or call 250.741.0778 (ext. 1417)
Richmond
Saturdays or Sundays
12:00 to 2:00 p.m. or 3:00 to 5:00 p.m.
$175 for a maximum of 10 kids
Contact the BC SPCA Richmond Education & Adoption Centre via email or call 604.277.3100
Surrey
Saturdays or Sundays
Any 2 hours between 11:30 and 5:00 p.m.
$175 for a maximum of 10 kids
Contact the BC SPCA Surrey Education & Adoption Centre via email or call 604.574.1711
Tri-Cities (Coquitlam)
Saturdays and Sundays
12:00 to 2:00 p.m. or 3:00 to 5:00 p.m.
$175 for a maximum of 10 kids
Contact the BC SPCA Tri-Cities Education & Adoption Centre via email or call 604.468.4044
Victoria
Sundays only
11:00 a.m. to 1:00 p.m. or 2:00 to 4:00 p.m.
$175 for a maximum of 10 kids
Contact Madison Francis via email
West Kootenay (Castlegar)
Saturdays only
11:00 a.m. to 1:00 p.m. or 1:30 to 3:30 p.m.
$160 for a maximum of 10 kids
Contact Stephenie Campbell via email or call 250.509.0297