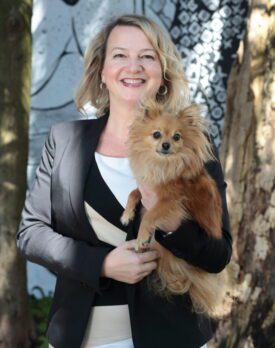 With separate degrees in Animal Biology and Law, Marcie Moriarty draws on all aspects of her background and education as head of the BC SPCA's Chief Protection and Outreach Services . Her passion for animal welfare and advocacy led her to a career with the BC SPCA in 2005 as General Manager of the society's Cruelty Investigations Department. In 2012, Marcie took on her current role leading a department that combines cruelty investigations, outreach programs, science and policy and government relations. Some of the successes of the Prevention and Enforcement Department that she is most proud of include the strengthening of the provincial animal cruelty laws to include higher penalties, inclusion of codes of practice for farmed animals, expanded outreach programs that include work on violence link issues, and advocating for numerous policy and legislative changes informed by science and research.
In addition, Marcie was a key contributor to the creation of the National Centre for the Prosecution of Animal Cruelty (NCPAC), which is a community of Crown Prosecutors and allied professionals from across Canada who are working together in the service of the public interest to ensure that crimes against animals are prosecuted effectively and efficiently. As a result of her work with the NCPAC, Marcie was awarded the Humane Canada National Animal Welfare Leadership and Innovation Award in 2016. She serves on the Humane Canada Board of Directors as Chair, representing the BC SPCA.
During her time at the BC SPCA, Marcie has presented to numerous students, stakeholder groups, conferences, and the media on the subject of animal cruelty law and was an adjunct professor at the UBC School of Law where she taught animal law.