Animal outside, abused or on a chain?
All animals need exercise and social time. Tethered or outdoor animals can suffer by:
Feeling afraid, anxious or frustrated, which can trigger aggression.
Becoming tangled, choking or cutting their legs.
Getting attacked by wildlife or roaming dogs.
Lacking adequate food, water or shelter.
Succumbing to common health issues, including ticks, fleas, worms, injury and disease.

My neighbour's pet is suffering
Concerned about a neighbour's dog or cat that you see outside? Maybe the animal is tied up, or doesn't have a place to hide from the rain? You're not alone.
When our Animal Protection Officers visit a property, they must determine if the animal is in distress. Learn more about what 'distress' is when it comes to outdoor animals.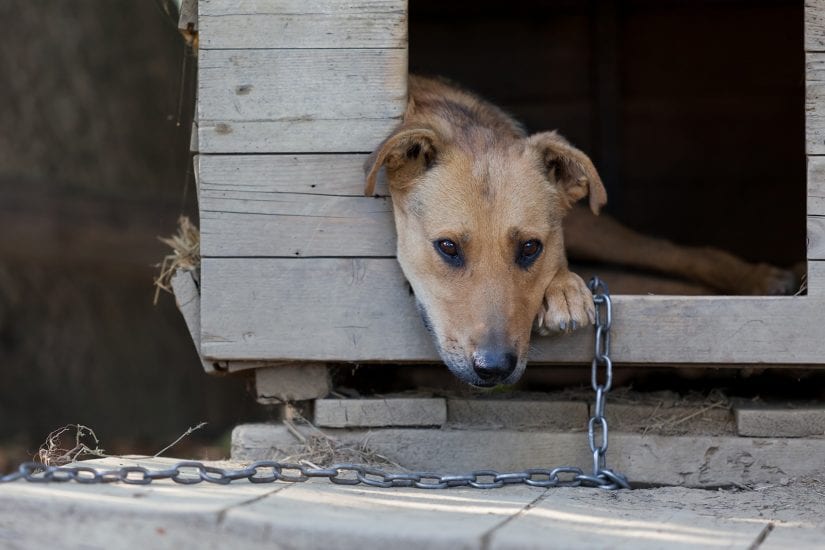 Take action to help chained up outdoor dogs
The BC SPCA responds to cruelty complaints and works with municipal governments to adopt bylaws that prevent constant tethering for dogs. You can get involved in helping to improve the lives of outdoor dogs.
Call the BC SPCA Provincial Call Centre if you suspect an animal is in distress: 1-855-622-7722. A BC SPCA Special Provincial Constable will follow up on the complaint and have educational materials to help owners transition their dog inside. If the animal is found to be in distress, the constable will issue orders to the owner.