Now entering its fourth year, the BC SPCA Community Animal Spay/Neuter Grant Program has assisted organizations and local governments across the province to spay and neuter 1,775 cats and 283 dogs to date. The program is designed to support non-profit community organizations, veterinarians, First Nations communities and regional and municipal governments working to address pet overpopulation in their local areas across British Columbia.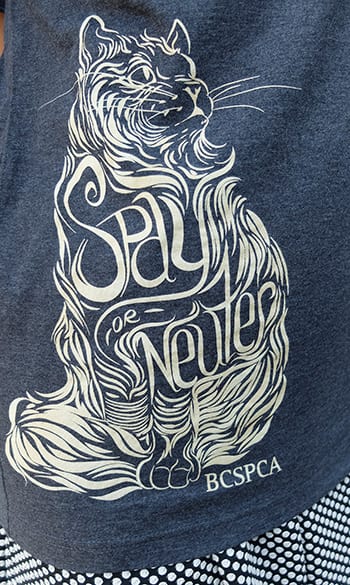 Cathy Brzoza, the treasurer for Nanaimo's CatNap Society, is an active citizen who has made use of the grant, changing the lives of 77 community cats in 2015. Through spaying and neutering, the Trap-Neuter-Return (TNR) approach has led to happier, healthier community cats that are no longer reproducing.
"We have seen fewer litters of kittens coming out of the colonies that we manage and have been able to monitor and control their colony growth," Brzoza says.
Another significant outcome of their project is the overwhelmingly positive response received from their Nanaimo community. Brzoza notes that more people are aware of the issues facing abandoned, homeless and feral cats and are seeking humane solutions for them.
The BC SPCA relies on active community members like Brzoza to help end the suffering of unsterilized, free-roaming companion animals. Homeless cats suffer needlessly from illness, injury, frostbite, predator attacks, starvation and more. This preventable problem can easily be solved with British Columbians' taking responsibility for their cats by ensuring they are neutered and microchipped by the time they are six months old.
Funded by legacy donations made by compassionate BC SPCA donors who wish to see an end to the suffering of homeless pets, you too can support the BC SPCA Community Animal Spay/Neuter Grant Program by wearing a stylish spay or neuter T-shirt, available in the BC SPCA's online shop. All proceeds go directly towards this program. The society is now accepting applications for the 2016 program. Funding will be distributed to projects that better the welfare of a community's most vulnerable companion animals. The application deadline is Dec. 31, 2015; details available online.
The British Columbia Society for the Prevention of Cruelty to Animals is a not-for-profit organization reliant on public donations. Our mission is to protect and enhance the quality of life for domestic, farm and wild animals in B.C.