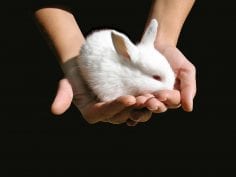 Campaign update: Nearly 3,500 people reached out the senate committee to ask them to prioritize reviewing Bill S-214. It worked! The bill moved swiftly through committee with full support to move forward to third reading, which will occur later this month.
The majority of Canadians support making testing cosmetics (or their ingredients) on animals illegal in Canada. The bill which would make this illegal,  is now waiting to have 'third reading' and all senators will vote to decide if it moves forward. Do you think there should be a ban on the unnecessary testing of cosmetics and their ingredients on animals? Please, take time today to send an email to Canadian senators.
The federal Bill S-214, called the Cruelty-Free Cosmetics Act, amends the Food and Drugs Act to prohibit cosmetic animal testing and the sale of cosmetics developed or manufactured using animal testing.
We support initiatives like the Animals in Science Policy Institute and the Canadian Centre for Alternatives to Animal Methods, which work to advance and promote research and testing techniques that don't use animals.