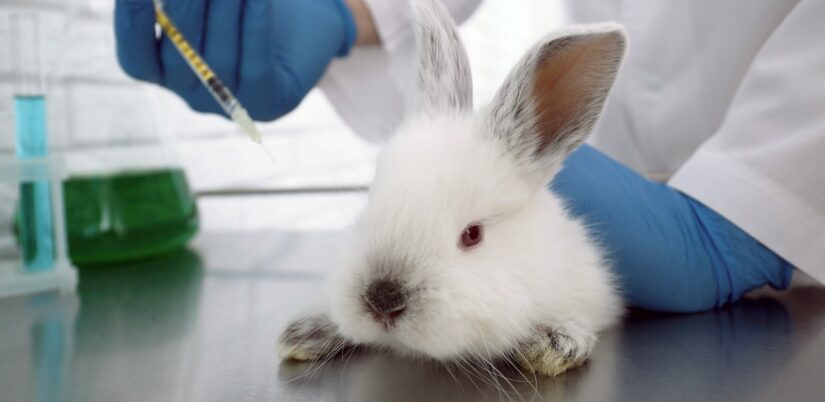 Canadians are often shocked to learn that it is still legal in our country to use animals to test cosmetics, household products, pesticides, drugs and other substances. It's 2023 – let's ban animal testing for good!
After almost 10 years of advocacy from the BC SPCA and many other individuals, organizations and businesses, the federal government has proposed bans on cosmetic and toxicity testing on animals.
The 2023 federal budget contains proposed amendments to the Food and Drugs Act that would finally prohibit:
Testing cosmetics on animals in Canada;
Selling cosmetics that rely on animal testing to establish the product's safety (with some exceptions); and,
False or misleading labelling about the testing of cosmetics on animals.
The proposed amendments to the Food and Drugs Act are expected to be included in the pending budget implementation bill. The BC SPCA through our national leadership at Humane Canada, is continuing to ask the Canadian government to introduce the legislation at the earliest opportunity.
And Bill S-5, an Act to amend the Canadian Environmental Protection Act, sets out a roadmap to phase out cruel toxicity tests on vertebrate animals, and become a leader in the development and use of alternative test methods.
These bills have the potential to end unnecessary pain, suffering and death for hundreds of thousands of animals every year. But they haven't been adopted yet!
Sign up for updates below and share your support for these bills to pass:
If your form does not submit, please check that all required fields are filled out correctly. Note postal code format: V5T1X1.
How you have helped get us this far
The majority of Canadians support making testing cosmetics (or their ingredients) on animals illegal in Canada.
In 2015, BC SPCA supporters and others wrote to their federal representatives to pass Bill S-214, called the Cruelty-Free Cosmetics Act, which proposed to amend the Food and Drugs Act to prohibit cosmetic animal testing and the sale of cosmetics developed or manufactured using animal testing. Although the bill moved swiftly through committee with full support in 2017 and was passed by the Senate in 2018, the bill was only able to get passed first reading in the House of Commons before the legislature session ended in 2019.
The BC SPCA was pleased to see that the 2021 Mandate Letter to the federal Minister of Health included a statement to "introduce legislation to end testing on animals." This means we could see changes in 2023 to amend both the Canadian Environmental Protection Act Bill S-5 to end testing of toxic chemicals on animals for consumer safety, and end cosmetic testing through amendments to the Food and Drugs Act.