The BC SPCA Quesnel Branch is closed indefinitely due to significant damage, including a roof collapse, caused to the building following a heavy rainfall. We apologize for the inconvenience – we are working to assess the damage and to determine our next steps. In the meantime, are working to provide services for animals who would otherwise be cared for at our facility.
Animals can be surrendered (if space is available) at one of our other SPCA locations. The closest SPCA shelters to Quesnel are Williams Lake (709 Bond Lake Road, Williams Lake. Tel. 250.392.2179), or our North Cariboo Branch in Prince George (4011 Landsdowne Road, Prince George. Tel. 250.562.5511).  Be sure to call ahead to make sure space is available and to make arrangements with staff for the surrender. SPCA staff in Quesnel (250.992.722) are also working off-site – they are available to answer questions and to assist in finding the best solution for you. If you need help transferring your animal, we will do our best to help you.
For stray dogs or other animal control matters, please contact the City of Quesnel at 250.922.2111 or bylaw@quesnel.ca.
During COVID-19, and in compliance with provincial government regulations, our team is here to serve our community during our regular public hours of operation.
Appointments are still needed in order to maintain our occupancy limits and to serve people as efficiently as possible.
We ask all visitors to wear masks when entering our facility and to respect the physical distancing directions in place.
COVID-19 & Pets - Frequently Asked Questions
Phone:
(250) 992-7722
Emergency phone:
(250) 992-7722
(During operating hours) After hours: call your local police or RCMP
Cruelty Report and Wildlife Support Line (Toll free):
1-855-622-7722
Address:
1000 Carson Pit Rd, Quesnel, BC V2J 7H2, Canada
Services offered:
Shelter, Takes surrendered animals, Adoptions, Takes in stray cats, Takes in stray domestic small pets
Email:
quesnel@spca.bc.ca
Please note, due to the volume of emails received daily we may not be able to respond immediately. Should you need urgent assistance, please call.
Serving the following communities:
Quesnel, Wells, Barkerville, Nazko and McLeese Lake.
Hours of operation:
Thursday to Sunday:

12 p.m. to 4:00 p.m.

Monday:

11 a.m. to 3 p.m.

Tuesday/Wednesday:

Closed

Stat Holidays:

Closed
Adoption fees*
*Fees vary by location and are subject to change without notice. Adoption fees are subject to PST (Provincial Sales Tax), which will be added at the time of adoption. All BC SPCA cat/kitten/dog/puppy/rabbit adoptions include a microchip and lifetime registration with the BC Pet Registry. Registration for lifetime protection is $45 for cats/kittens/dogs/puppies and $11.25 for rabbits, which will be added to the adoption fee. For more information please visit bcpetregistry.ca
Learn what's included in your adoption fee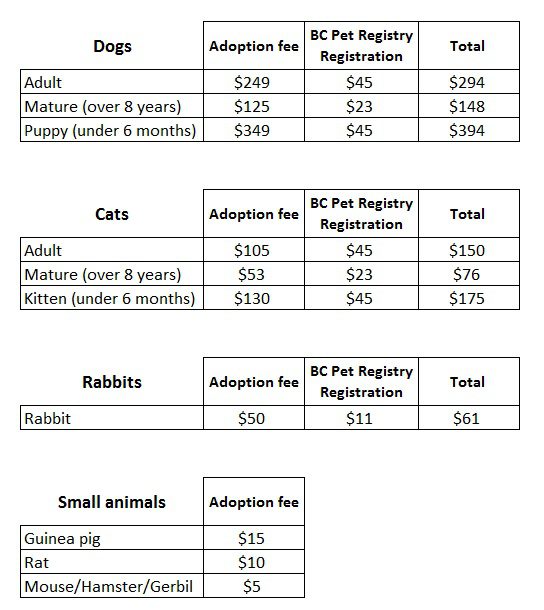 Welcome to the BC SPCA Quesnel Community Animal Centre. We are one of 42 BC SPCA locations across the province serving sick, neglected, abused and homeless animals. Whether you are looking to adopt a new furry friend into your family or would like to know more about how you can make difference for animals in our community, we are here to help. The BC SPCA is a not-for-profit organization which relies primarily on community donations to help animals in need. Please join us in the fight against animal cruelty!
Respectfully acknowledging that the BC SPCA in Quesnel & District is located on the unceded traditional territory of the Lhtako and Lhoosk'uz Dené Nations, Tŝilhqot'in Nations, and the Nazko people of the Carrier Nation, whose historical relationships to the land continues today.