The story of Bobbie is one of human dedication to a deserving animal.
At only about a year old, this dear girl was seized in a cruelty investigation in Smithers on September 16, 2020. She was sick and scared.
Bobbie worked her way south via the Drives for Lives Program from the BC SPCA Quesnel Community Animal Centre to the BC SPCA Chilliwack Community Animal Centre where she received medical care for an upper respiratory infection and major dental issues.
She also received months of slow, gentle social rehabilitation in one of our foster homes. When she first came to us, Bobbie wouldn't come out of hiding to eat or use a litter box or allow anyone to touch her. Over time in foster care, she showed enough progress to try a new home.
On November 23, 2020, Bobbie was adopted from the BC SPCA Chilliwack Community Animal Centre, but was returned five days later. Back she went to the foster home, as the shelter was far too stressful for her.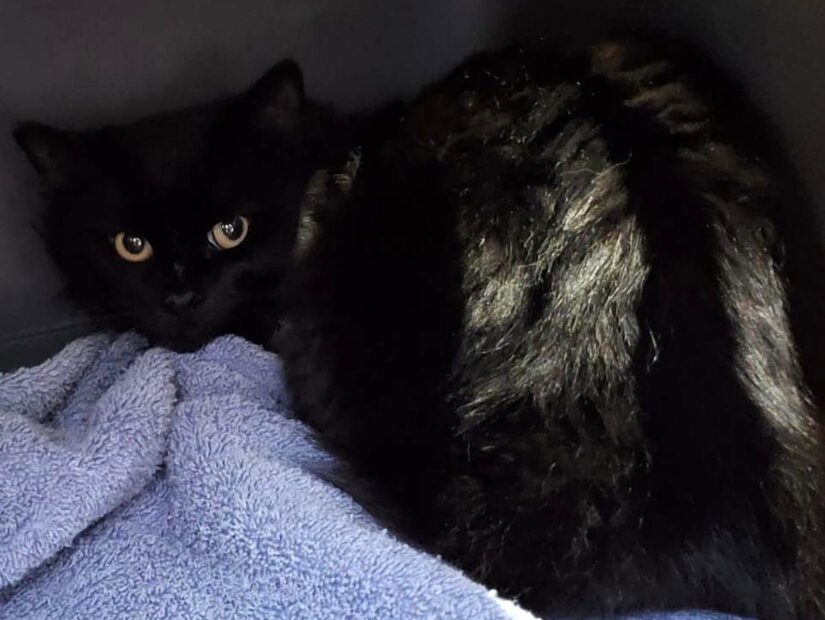 Finally, on January 7, 2021, Bobbie found her forever home through the BC SPCA Vancouver Community Animal Centre. Her new dad shares this update on her progress:
I adopted another rescue cat (Lindy Lou) back in July of 2020 and she settled in right away and has been a real bright spot in an otherwise pretty bad year.
In late December 2020, I had a call from the SPCA in Vancouver, asking if I'd be interested in adopting another cat (Bobbie) from the same seizure as Lindy Lou. She hadn't been able to find a permanent home and had had some health challenges, including FIV (Feline Immunodeficiency Virus), which Lindy Lou also has.
Her story was so sad that I couldn't resist and came in right away to see Bobbie. She was so shy that after I brought her home in late December, she hid under my bed for most of the time right through January.
I could get her to come out to eat, on occasion to play a little bit and she would only reluctantly allow the odd pet, but I kept trying.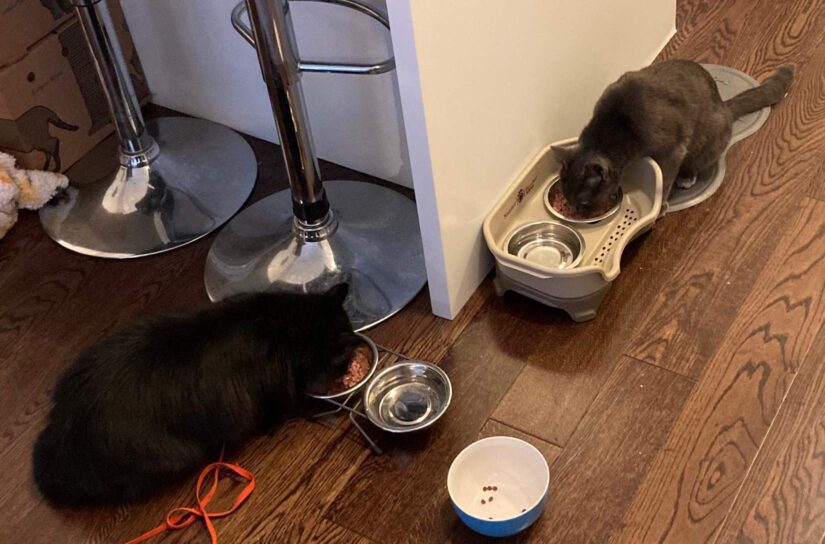 This past weekend she had a major breakthrough and is now taking full run of the house, looking for pets and will even let me pick her up and clip out a few pieces of knotted fur. She is a complete sweetheart and is learning to get along with her "sister", Lindy Lou.
The two adoptions are something I'm so happy I was able to do, both for the cats and for myself.
Doug

Thank you for stepping up to add another furry friend to your home, Doug. Inside that scared little girl was a heart that was just waiting to be able to trust enough to give and receive love.
We really appreciate that you chose to adopt, not once, but twice, making a difference in two deserving lives. May theirs, and yours, be long and happy.
Have you adopted an animal from the BC SPCA and want to share your joy with others? Submit your adoption story!