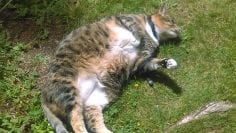 Sadie was surrendered by her owner when an illness came about and looking after her was no longer a possibility. She came into the care of the BC SPCA Chilliwack Branch on November 22, 2010 and was only a couple years old at the time. Sadie seemed to be quite a lovely cat, very curious and independent; she loved to follow people around, but would go off on her own to explore when she felt the need.
Sadie was then transferred to the BC SPCA Port Coquitlam Education & Adoption Centre Branch in December to maximize her chances for adoption. She waited for some time and with no adoption applications coming in for her she was ready to make another move.
At the end of January 2011 Sadie was taken to the BC SPCA Vancouver Branch in hopes that there would be someone there that wanted to bring her into their home. Sometimes a change of scenery can make a big difference for an animal's adoptability, and this time it worked. In mid-April two lovely people came by and visited with Sadie, she was subsequently adopted. Her new caregivers wrote in to share their excitement in finding such a wonderful cat.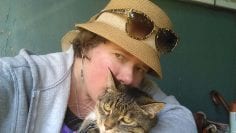 Hello, I adopted my cat Sadie in May 2011 about a week before my birthday on May 8th. She is doing very well in our home. She loves to go both in and outside. We live in a very safe area and keep her in at night. She loves to have belly rubs and lie on her back with her paws up it is so cute it melts my heart. She is a great comfort to me I have loved cats my entire life.
I have never had one as unique as Sadie. She even gave me a valentines day card! We really enjoy spending time together she lies beside me on the couch and lies on me while I watch movies. She is a very affectionate and loving cat. She has a lot of toys to play with and scratch posts she loves. She also loves my boyfriend and lies on him too!!
Thanks for giving me my new best friend!
Sincerely,
Fiona
We're so happy to know that after all of Sadie's travels she finally found herself in the right place at the right time. Thank you so much to you both for making adoption your first option, it is much appreciated by staff, volunteers, and of course, Sadie herself.