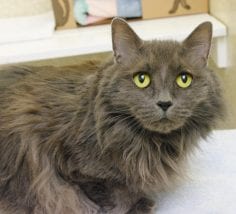 Sometimes it is more difficult for senior animals to find their forever homes simply because of their age.
Sadly, Molly first came into the BC SPCA Kamloops Branch in the spring of 2018 because her previous owner had to move and could not find a pet-friendly home to bring her along. It was clear to us how much love Molly had to give to her people, so we transferred her to the BC SPCA West Vancouver Branch to meet more potential families.
Here, Molly waited months before her perfect match came along. Abbey entered the shelter one day in early June and knew that Molly would be the right fit for her.
Now, just over a month later, Molly has a new name and a new loving family to call her own:
Molly has been the best addition for us! She is a complete love bug. After being at the BC SPCA West Vancouver Branch for so long, it was time for her to find her forever home.
Molly is demanding when it comes to being pet, and she likes to have her breakfast at 7:00 am on the dot. If I'm even one second late she'll meow at me until I feed her.
Molly loves sitting out on our balcony in the sun watching the world go by. Her favourite thing to do is to sit with us on the couch in the evening, being brushed and snuggling into us. For a 14-year-old kitty, Molly has a ton of spirit and loves to play!
Thank you, Abbey, for choosing to adopt Molly in her older years and for giving her a devoted retirement home. We can see that she is truly cared for and her vast amount of affection is reciprocated.  Molly will be eternally grateful that you chose her in her golden age.