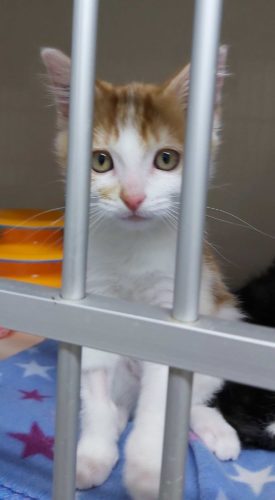 This tiny tyke was found all alone in a backyard in Chemainus. Little Merlin was not in good shape when he was brought by a kind citizen into the BC SPCA Cowichan & District Branch on March 11, 2020. He was experiencing seizures and needed to stay with the veterinarian for monitoring.
A couple days into his stay with the local clinic, Merlin's seizures stopped. But he was only five weeks old and still needed some tender, loving care with one of our wonderful foster volunteers, until he was strong enough to be shown for adoption.
Thanks to this combined human effort, this tough little fellow was able to pull through. By April 29, he was strong enough to be neutered and vaccinated for his trip to his new home on April 30.
His new guardian wrote to let us know how he's doing.
I've been wanting to get a kitten for a while now. I moved last summer and wanted to be sure I had a safe home for my potential pets. 
I had just finished fencing my yard and Covid-19 hit. I was alone for six weeks. Then Merlin rescued me.
We've been together for three weeks now. Merlin has brought love and life to my home. He's a sweet, playful and happy little guy. I love how he gives kisses at bedtime.
Merlin makes my world complete. So happy to be his Mom!
Merlin sure looks to be a normal, healthy kitten now. After surviving his first weeks vulnerable in the wild, we suspect he'll really appreciate a long, cushy, indoor life under your loving care.
Have you adopted an animal from the BC SPCA and want to share your joy with others? Submit your adoption story!