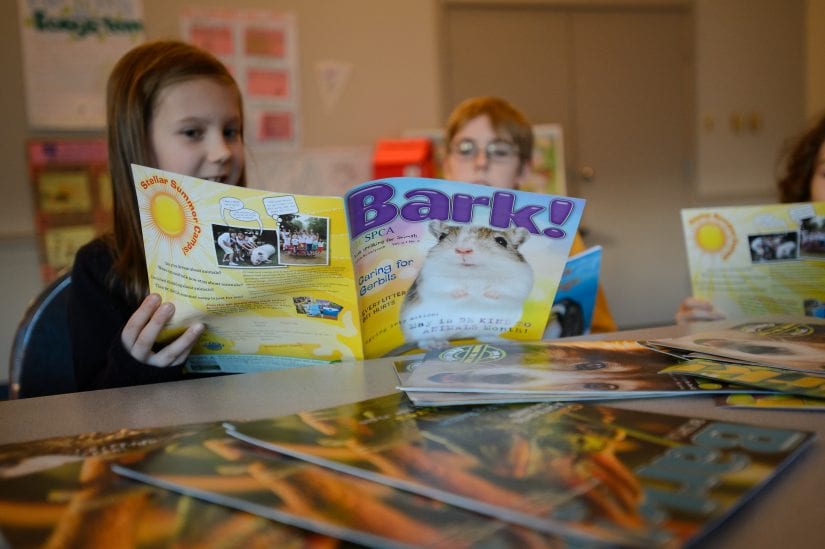 Have you always wanted to volunteer for the BC SPCA, but are short on time and worried you will end up with a houseful of animals? Then becoming a BC SPCA teacher representative is the perfect opportunity for you!
In order to teach kids all over the province about the importance of animal welfare, our goal is to have a teacher representative in every school across B.C. to help us communicate our message.
The more youth we are able to reach to educate about animal welfare, the better chance we have of inspiring them to take action and be a voice for these animals who can't speak for themselves.
What's involved?
As a representative, you will serve as a point person for the BC SPCA to receive materials on behalf of your school.
Teacher representatives help distribute the materials to their colleagues, which include:
School presentation brochures
New lessons for the classroom
Posters for upcoming youth events in your region
What do teacher representatives receive?
Subscription to Bark! magazine, our humane education publication for kids (published four times a year)
Copy of Meow!, our  annual teacher guide to integrating animals into the classroom
Animal issues posters
Bark! teacher guides
Subscription to AnimalSense magazine, our BC SPCA publication for adults (published two times a year)
If this sounds like a volunteer opportunity for you, please email education@spca.bc.ca.
---
Resources
---
If you change your mind about being a teacher representative, we ask that you please check to see if any of your colleagues would like to take on these responsibilities in your place.