If you've ever considered being a foster fur-parent, now is a fantastic time to apply at your local BC SPCA branch. The society's shelters are constantly in need of foster families for cats, kittens, dogs and small animals.
If you are 19 years of age or older, you can apply to become a foster guardian. Learn more about our program, download fostering for the BC SPCA (PDF) and watch the video below.
"Fostering an animal or animals for the BC SPCA has many benefits – for the animals and the foster guardians," says Kim Monteith, BC SPCA manager of animal welfare.
"Our foster program helps animals who have a good chance of adoption, but who are either too young, sick, injured, under-socialized or emotionally stressed in the shelter environment."
Animals like these – such as litters of young kittens – are cared for and rehabilitated in a nurturing foster home until they're healthy and ready for adoption. Fostering furry companions allows animal lovers to help save animal lives with a commitment of only a few weeks to a few months, Montieth notes, and it can be an opportunity to have a 'trial run' of pet ownership.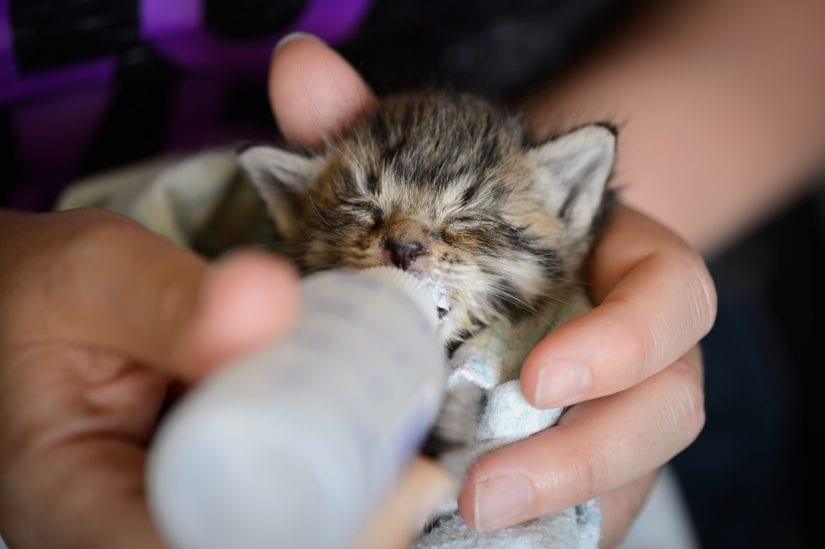 Fostering can be a 'trial run' of pet ownership
"Fostering kittens is a great way to see if you and your family are ready for a permanent pet commitment," she says. "While you still get to have fun with and enjoy the cuteness of the kittens, you also see how much work it can take to care for other living creatures."
Foster guardians must be at least 19 years of age or older, and strict criteria must be adhered to, to ensure germs and disease don't affect the animals or the foster household where they're staying, and all foster guardians must abide by the BC SPCA foster agreement signed upon joining the program.
For a nursing mom and kittens, nursing kittens or kittens, a prospective foster household will:
Have a designated room separate from the rest of the house (i.e. bathroom, laundry room)
Time to help socialize kittens to new people, sounds and experiences
For orphaned baby kittens still bottle-feeding, time to feed, depending on age (can be every two hours)
Any existing animals at home must be up-to-date on vaccinations
Ensure a time commitment of one to eight weeks, with the ability to come back to the branch for weekly weigh-ins and treatments such as deworming and vaccines
Provide lots of love!
BC SPCA shelters throughout the province are constantly looking for foster households for animals of all ages and sizes. If you're interested, please contact your local BC SPCA branch to apply today.