Important notice: Our shelter is temporarily closed while an assessment is carried out to address some structural concerns that have been identified in the building. However, all SPCA services are continuing during the temporary closure – animals are being cared for with our loving foster families and at off-site kenneling locations. Calls have been redirected and voicemails are received via the branch email to ensure staff working off-site can respond to animal-related issues in the community.
For general enquiries or animal control issues, please call 250-785-7722. To report suspected animal cruelty or neglect, call 1-855-622-7722.
Phone:
(250) 785-7722
Emergency phone:
(250) 785-7722
(During operating hours) After hours: call your local police or RCMP
Animal Helpline (toll free):
1-855-622-7722
Address:
9311 81 Ave, Fort St John, BC V1J 6P6, Canada
Services offered:
Shelter, Takes surrendered animals, Adoptions, Takes in stray cats, Takes in stray domestic small pets
Email:
northpeace@spca.bc.ca
Please note, due to the volume of emails received daily we may not be able to respond immediately. Should you need urgent assistance, please call.
Serving the following communities:
Fort St. John, Hudson's Hope, Pink Mountain, Taylor, Baldonnel, Charlie Lake, Goodlow, Flatrock, Montney, Prespatou and Buick.
Hours of operation:
Hours of operation
Tuesday to Saturday:

12:00 p.m. to 4:00 p.m.

Sunday and Monday:

Closed

Stat Holidays:

Closed
Adoption fees*
*Fees vary by location and are subject to change without notice. Adoption fees are subject to PST (Provincial Sales Tax), which will be added at the time of adoption. All BC SPCA cat/kitten/dog/puppy/rabbit adoptions include a microchip and lifetime registration with the BC Pet Registry. Registration for lifetime protection is $45 for cats/kittens/dogs/puppies and $11.25 for rabbits, which will be added to the adoption fee. For more information please visit bcpetregistry.ca
Learn what's included in your adoption fee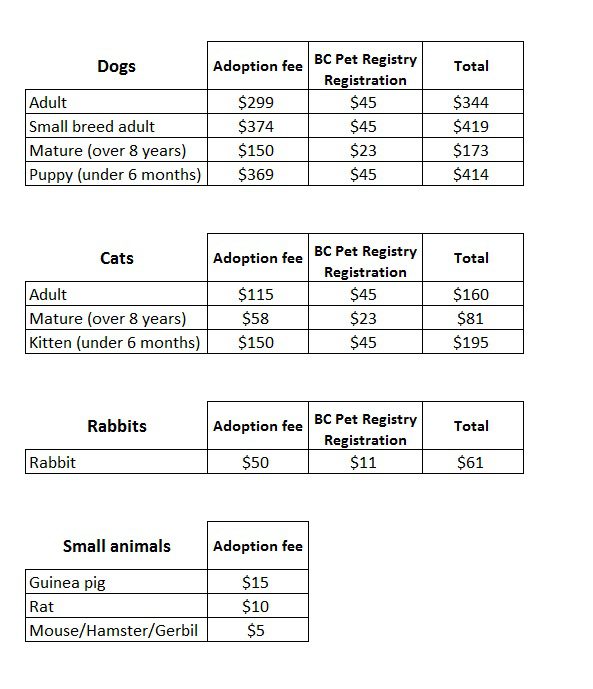 Welcome to the BC SPCA in North Peace. We are one of 41 BC SPCA locations across the province serving sick, neglected, abused and homeless animals. Whether you are looking to adopt a new furry friend into your family or would like to know more about how you can make difference for animals in our community, we are here to help. The BC SPCA is a not-for-profit organization which relies primarily on community donations to help animals in need. Please join us in the fight against animal cruelty!
Search adoptable animals available through our location >>
Respectfully acknowledging that the BC SPCA in North Peace is located on the traditional territory of the ᑕᓀᖚ (Dane-zaa) peoples, the Doig River, Blueberry River and Halfway River First Nations whose historical relationships to the land continues today.