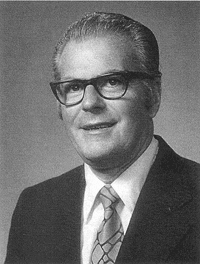 William McKerracher was a kind man. He was kind to his neighbours, his friends and to the wildlife and strays that inhabited the area around his New Westminster home. When it came time for him to plan his estate, he didn't forget anyone – not even the small creatures he loved so much. In his Will, William left a legacy for the BC SPCA so that animals he loved in his life would be cared for after his death.
William was a private and unassuming man. He lived his entire life in the house his father built on Fader Street in New Westminster. He worked for 35 years at the Fraser Mills until his retirement in the early 70's. Throughout his life, William was always ready to help his neighbours, and frequently did odd jobs repairing appliances and fixtures.
His lifetime passion was birds and cats. In a way, the animals became his family because he never married, and never raised children. He gave generously to charities during his lifetime. After a long struggle with cancer, William passed in 1998. William's bequest went towards providing food, shelter and medical care for the animals in the Lower Mainland.