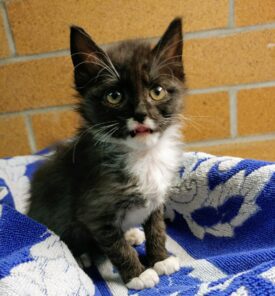 When we meet our animals for the first time, we often feel an instant connection. Kayleen and her husband felt this before they even met Tom Selleck—their kitten, that is—at the BC SPCA West Vancouver Community Animal Centre in February 2018.
They hit the jackpot twice because, as luck would have it, Tom's litter sister Burt Reynolds was waiting for her forever guardians too.
As Kayleen and her husband were wishing for a pair of kittens to bring home, they were delighted. Four years on, Kayleen has written to us with their story:
"After having an empty house for about six months after the passing of our sweet senior cat, we were finally ready to open our hearts to a new kitty… or two.
We searched for weeks on Pet Finder until Tom Selleck and Burt Reynolds popped up. I knew immediately they were meant to be with us. I yelled to my husband in the other room, and he was looking at the exact same listing!
We got in the car and drove to West Vancouver from Burnaby to see these little babies.
Immediately, Tom jumped on my shoulder from the little cat tree. I instantly started balling. I cried because I just knew this little one was my whole heart already.
The other three were spoken for. While we were happy for them, we were also a little sad because we had really wanted to take two kittens home so they would each have a litter-mate friend.
We got to bring Tom home that day and we were so happy with her. On our drive home, we got a call from the BC SPCA asking if we would like to take one of the siblings since their adoption fell through.
The next day I excitedly drove out to pick up Burt and got to reunite my sweet kitties. After their spay surgeries, we officially adopted them on Valentine's Day in 2018. They have been the joy of our home and hearts ever since."
Thank you to you and your husband, Kayleen, for choosing adoption as your first option. We are thrilled that you were able to adopt both Tom and Burt. These two feline sisters make such an adorable, sweet pair.
Tom and Burt are surely happy they get to share their lives not only with each other but also with such loving parents. We wish your family many more joyful times over the years to come.
Have you adopted an animal from the BC SPCA and want to share your joy with others? Submit your adoption story!
Resources for cat guardians
How do I know if my cat loves me?