Tailor and her siblings were only young when they were in the BC SPCA West Vancouver Branch in the late summer of 2011.
Being a Border Collie and Wheaton Terrier mix, we knew Tailor had a busy mind as well as lots of love and energy to give to the lucky guardians who took her home.
Fortunately, Beverli and her partner were on the hunt for a canine pal. These two had the perfect amount of energy and commitment that Tailor needed and deserved.
It has now been nine happy years since Beverli and her partner adopted Tailor. They have now shared their story with us:
We waited eight long years before adopting a dog because we had a mean old cat, Rusty, who probably would have tormented any dog.
Once our cat was gone, my partner started the province-wide search to find the right dog. We are both runners and very active, so we wanted a dog to suit our active lifestyle.
When a litter of puppies became available for adoption at the BC SPCA West Vancouver Branch, my partner showed me the photo of Tailor. We agreed that she was perfect.
We jumped into the Jeep and drove over to the shelter to retrieve our new pet.
At the time, we had recently adopted a stray cat who wasn't afraid of dogs at all. So, when we brought Tailor home, they became instant besties. They would chase each other around the house on a daily basis.
We even took them for neighbourhood walks together with Tailor on leash and Finny, our cat, darting along beside us.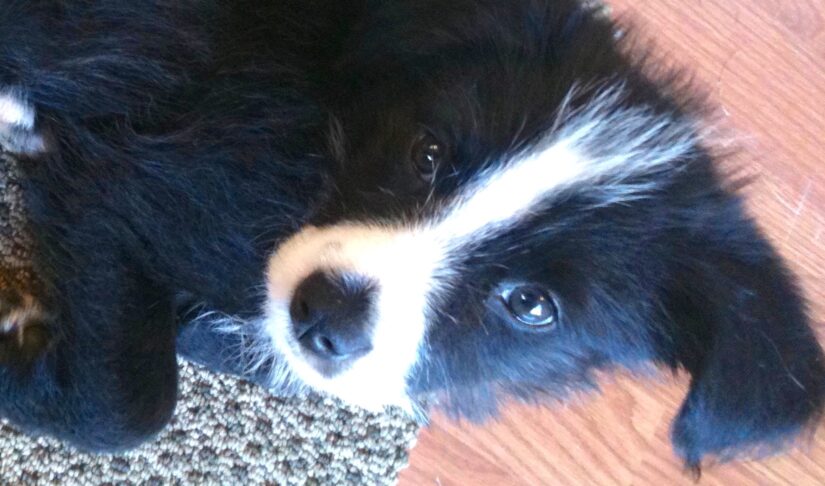 I'm a clothing designer, which is how Tailor got her name. When she was a puppy, Tailor would sleep on my expensive bolts of wool and drag fabric scraps around the house.
Tailor was adorable at eight weeks old, of course, but she's even cuter now. As a Wheaton Terrier and Border Collie cross, Tailor is smart and stubborn, but she's a fast learner and so much fun.
I hadn't had a dog since I was a child, so I had to learn a lot about caring for and training a puppy.
We had a good trainer for Tailor. She made us promise to never stop teaching Tailor new tricks or her mind would go to mush. Now, at nine years old, Tailor is still extremely active and always up for learning new tricks and going on adventures.
She tore her ACL and meniscus right off the bone just before she turned one year old. Happily, after surgery, she made a full recovery. Tailor was a brave girl and a very compliant patient. You'd never know anything had ever happened. The surgeon was brilliant.
Tailor loves to chase her ball and play soccer and basketball. She absolutely loves swimming, agility and trail running. She maintains a lean figure and doesn't have a big appetite—probably due to being finicky from her Border Collie traits.
Funnily, Tailor is terrified of flies! When she was young, a wasp stung her. Somehow, she is unable to distinguish the flying insects and panics if a fly is ever in the house.
Tailor brings so much joy to our lives. I cannot imagine our household without her. Sometimes I think she believes she's a cat and Finny thinks she's a dog. Watching them groom each other is priceless.
Tailor has taught me to be patient on her long sniffing walks. More than anything, she gives us all unconditional love.
Thank you to you and your partner, Beverli, for choosing adoption as your first option. We are so grateful that Tailor has found her forever home with you both and continues to fill your lives with so much love. We wish you many more joyful years of teaching each other new tricks and making new memories.
Have you adopted an animal from the BC SPCA and want to share your joy with others? Submit your adoption story!