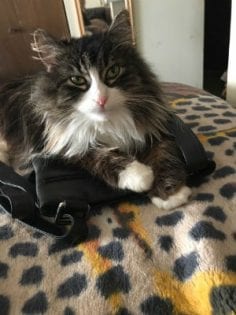 Sofi came into the care of the BC SPCA in 2010 as a stray. After a short stay at the BC SPCA Williams Lake & District Branch, Sofi was transferred to the BC SPCA Port Coquitlam Education & Adoption Centre through the Drive for Lives Program in search of her new home.
Over seven years later after her adoption, her guardian has shared this wonderful update with us:
Just wanted to give you an update on Sofi. Here are some photos of her.
I just had to put my cat Gigi to sleep on March 15, 2010. She was 14. I was devastated. The next day I looked on your website and found two cats that I fell in love with, Otis and Sofi.
Otis was on hold so my decision was easy. I got Sofi on March 18, 2010. When I picked her up, right away she was relaxed in my arms. Lynn, your volunteer, knew that I was the perfect fit for Sofi. Sofi is quite the character.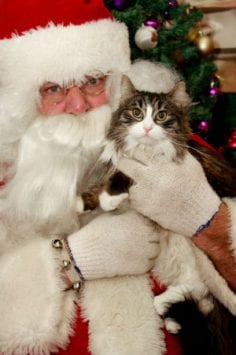 When I first brought her home she was relaxed right away. She didn't hide. She wrapped herself around my neck like a scarf for the first few days.
She loves playing with her toys and puts them in her mouth and carries them around and tosses them. When I come home from work she always greets me with big meows. There are a lot of cute things she does and I could go on and on and on.
Her 8th birthday is coming up on July 31, 2017. Sofi is with me for life and I just can't imagine life without her. It was the best thing in the world adopting her from you.
Thank you to Sofi's guardian for choosing to adopt from the BC SPCA and for giving Sofi a fantastic home! We wish you all the best for many more fun years to come.
Looking for a furry friend? Visit spca.bc.ca/adopt.