Port Coquitlam Education & Adoption Centre
Please be advised that the BC SPCA Port Coquitlam Branch will be moving to a new location at 1- 2565 Barnet Highway. Our projected move date is Feb 23, 2018.
Phone:
(604) 468-4044
Emergency phone:
(604) 879-7343 (Night, 5 p.m. to 12 a.m.); After hours: call your local police or RCMP
Address:
3278 Westwood St, Port Coquitlam, BC V3C 3L8, Canada
Services offered:
Adoptions, Kids camps/programs offered, Education centre, Community outreach, Pet Products & Retail/shopping
Email:
poco@spca.bc.ca
Please note, due to the volume of emails received daily we may not be able to respond immediately. Should you need urgent assistance, please call.
Serving the following communities:
Port Coquitlam and area.
Hours of operation:
N

Thursday to Tuesday:

12 to 5:30 p.m.

Wednesday:

Closed

Stat Holidays:

Closed
Adoption fees*
Dog adoption fees
Adult dog: $369
Small breed adult dog: $469
Mature dog (over 8 years): $184.50
Puppy (under 6 months): $499
Small breed puppy (under 6 months): $599
Cat adoption fees
Adult cat: $149
Mature cat (over 8 years): $74.50
Kitten (under 6 months): $199
Small pet adoption fees
Rabbit: $65
Guinea pig: $15
Rat: $10
Mouse/Hamster/Gerbil: $5
Bird adoption fees
Budgie: $15
Cockatiel: $25
Canary/Lovebird: $30
*Fees subject to change without notice. All BC SPCA cat/kitten/dog/puppy/rabbit adoptions include a microchip and lifetime registration with the BC Pet Registry. Registration for lifetime protection is $45 for cats/kittens/dogs/puppies and $11.25 for rabbits, which will be added to the above adoption fee. For more information please visit bcpetregistry.ca.

Welcome to the BC SPCA Port Coquitlam Education & Adoption Centre. We are one of 44 BC SPCA locations across the province serving sick, neglected, abused and homeless animals. Whether you are looking to adopt a new furry friend into your family or would like to know more about how you can make difference for animals in our community, we are here to help. The BC SPCA is a not-for-profit organization which relies primarily on community donations to help animals in need. Please join us in the fight against animal cruelty!
Search adoptable animals available through our location.
Please note that our facility does not provide animal control services such as lost, found or surrendered animals, thank you.

For general inquiries, please call 604-468-4044 or email poco@spca.bc.ca. For inquires about volunteering at our branch, please email pocovolunteers@spca.bc.ca.
For animal control inquires, please contact the municipal agency for your area:
Port Coquitlam (Mon.-Fri., 8:30am-4:30pm): Bylaw Service, 604-927-5440
Port Coquitlam (after hours): Countryside Kennels, 604-945-0125
Coquitlam: Coquitlam Animal Shelter, 604-927-7387
Port Moody (Mon.-Sun., 7am-5pm): Bylaw Enforcement, 604-469-4697
Port Moody (after hours): Port Moody Police, 604-461-3456
Port Moody (lost pets): Coquitlam Animal Shelter, 604-927-7387
Adopt Me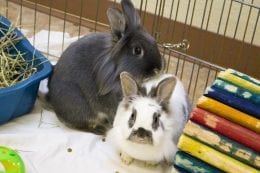 Violet (grey coat) came to us when she was surrendered with eight other rabbits, from a home who could no longer keep up with the proper care of so many pets. Violet came in very fearful and skittish. Since she has been in our care she has bonded with her kennel mate, Velveteen (white coat), another rabbit who was surrendered with her.

They love banana and Timothy Treats, and this is the way to their hearts. Our children volunteers find that sitting and reading with them also helps them become very accustomed to the reader. Violet and Velveteen will make your heart melt watching them cuddle and groom each other. With time, they will become cuddly with you!
Name:
Violet (with Velveteen)
Age:
1 year 3 months
Gender:
Female
Animal ID:
432943 (with 432942)
Breed:
Rabbit
Upcoming events
26th February 2018: National Cupcake Day
National Cupcake Day™ is a coordinated Canadian event to support local shelters, SPCAs, and Humane Societies. The campaign has raised $2.45 million in critically needed funds for abused, abandoned and neglected animals in our communities!
Learn More