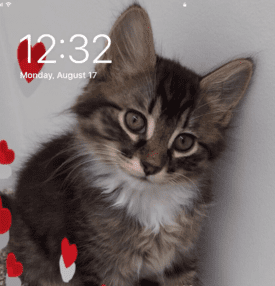 On July 28, 2020, an 18-month old momma cat and her kittens were surrendered to a District Bylaw Enforcement Officer in Lillooet by a family who had too many animals. At the time the kittens were just over a month old.
The feline family went immediately into foster care so that mom could continue to nurture her kittens until they were old enough to leave her.
The momma cat was given the name Snow White and each of her seven  kittens was named after one of the seven dwarves.
This story is about Grumpy who is now known as Shadow. His family wrote to share an update on his new life.
After a very long search (six months) to find the long-haired kitten we were looking for, we finally got the call from the BC SPCA Sea to Sky Branch.
This little guy is only seven weeks old.  But he adopted us within the first 12 hours of being in his new house.
He wants to be with one of us always. So, it brought me to the name change. We just couldn't call him Grumpy. He is soooo happy and curious and snugly. So my husband decided we should call him Shadow.
We love our new little family member. Our adult kids just can't wait to come over to meet him.
Thank you so very much.
We thank you so very much, for making adoption your first option.
Despite the reason behind his original name, we totally agree with your name change. How could a face that sweet keep the name Grumpy? Shadow is the perfect name for a little guy who always wants to follow his human companions around.
We wish you many more years of companionship with your little darling.
Have you adopted an animal from the BC SPCA and want to share your joy with others? Submit your adoption story!