Special Announcement
The BC SPCA's Sea-to-Sky and Vancouver Branches are temporarily unable to take in cats due to a contagious gastrointestinal illness. Affected cats and kittens generally have mild to moderate vomiting, diarrhea, and loss of appetite. In rare cases, animals who are already compromised by other health issues may be affected more severely. Sick cats have been responding well to symptomatic treatment and recovered cats are available for adoption to homes with no other cats.
We are working with shelter disease specialists to identify the cause of the illness and will reopen our cat areas for intake as soon as we are able.
If you have found a stray cat in the District of Squamish, please call the branch at (604) 898-9890. The staff will help support the cat through alternate arrangements and if needed temporary accommodations outside the shelter.
If you have questions about a pet cat displaying similar symptoms, please contact your veterinarian. We appreciate your patience during this temporary closure.
Phone:
(604) 898-9890
Emergency phone:
(604) 898-9890 (During operating hours) After hours: call your local police or RCMP
Address:
39901 Government Rd Squamish BC V0N 1T0 CA
Services offered:
Shelter, Takes surrendered animals, Adoptions, Takes in stray cats, Takes in stray domestic small pets
Email:
seatosky@spca.bc.ca
Please note, due to the volume of emails received daily we may not be able to respond immediately. Should you need urgent assistance, please call.
Mailing address:
PO Box 659
Garibaldi Highlands B.C.
V0N 1T0
Serving the following communities:
Britannia Beach, Squamish, Garibaldi Highlands, Brackendale, Pemberton, Mount Currie.
Hours of operation:
Wednesday to Friday:

11:00 a.m. to 4:00 p.m.

Saturday and Sunday:

12 to 4:00 p.m.

Monday and Tuesday:

Closed

Stat Holidays:

Closed
39901 Government Rd, Squamish, BC V0N, Canada
Adoption fees*
*Fees subject to change without notice. All BC SPCA cat/kitten/dog/puppy/rabbit adoptions include a microchip and lifetime registration with the BC Pet Registry. Registration for lifetime protection is $45 for cats/kittens/dogs/puppies and $11.25 for rabbits, which will be added to the adoption fee. For more information please visit bcpetregistry.ca.
Learn what's included in your adoption fee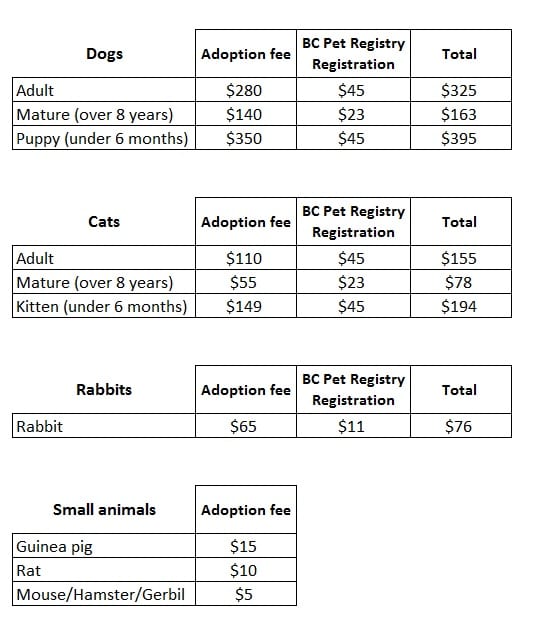 Welcome to the BC SPCA Sea to Sky Branch. We are one of 44 BC SPCA locations across the province serving sick, neglected, abused and homeless animals. Whether you are looking to adopt a new furry friend into your family or would like to know more about how you can make difference for animals in our community, we are here to help. The BC SPCA is a not-for-profit organization which relies primarily on community donations to help animals in need. Please join us in the fight against animal cruelty!
Upcoming events
14th April 2019: Sun Run 2019
Help raise funds for animals in B.C.! Help make a difference in the lives of animals and join us at the Vancouver Sun Run presented by Ford! This year we are aiming to raise $10,000 to help injured, homeless and abused animals across B.C. Join our BC SPCA team and then follow the steps to …
Continue reading "Sun Run 2019"
Learn More
25th February 2019: BC SPCA Treat Week™
Ladies and gentlemen, start your ovens – it's Treat Week! Cupcake Day has expanded to an entire week of treats; how sweet is that? While celebrating Treat Week February 23 – March 3 in your community, host your event on the day that's best for you or indulge the entire week! Register before the  Early Bird Deadline to …
Continue reading "BC SPCA Treat Week™"
Learn More