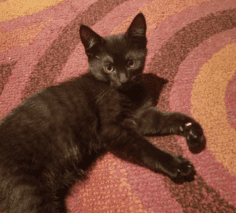 It is so incredibly difficult to say goodbye to our beloved pets. The loss we feel when we lose our furry family members is immense and healing takes time.
Once we have come through the initial part of the grieving process, many of us wish to share our love and our home again, so we search for our next companion.
Roxanne and her husband were heartbroken when they lost their elderly cat earlier in 2018. Their home didn't feel complete without a cat to share their love with.
Roxanne and her husband couldn't resist the urge to pursue another feline friend located at the BC SPCA Sea to Sky Branch, and come October 2018, they felt ready to welcome Pete into their home:
After losing our 18-year-old cat on May 31, 2018, my husband and I were both devastated. I often visited the BC SPCA website, but just didn't feel any connections to cats that were right for us.

Then, one Saturday night while browsing the kitties available for adoption, I spotted him—Pete! He was perfect.
The very next day we drove from Vancouver to Squamish to get him. It was love at first sight.
We want to thank you so much for taking such great care of Pete when he was in your shelter. He is settling in so very well, much better than we could have ever imagined.
Thank you, Roxanne, to you and your husband for choosing adoption as your first option, and for opening your home and your hearts once again. Pete is lucky to have two such loving guardians, and we can't wait for you to watch him flourish into the handsome, playful and sweet cat he is already growing up to be.
Have you adopted an animal from the BC SPCA and want to share your joy with others? Submit your adoption story!