ReRe first came into our care when she was surrendered to the BC SPCA Campbell River Branch in March 2017. She was three years old, but her previous owners had a new baby, who ReRe did not take a liking to.
Rather than force the relationship, ReRe's former owner decided it would be best to rehome her into a family where ReRe would be comfortable.
To improve her chances for adoption, ReRe was transferred to the BC SPCA Victoria Branch, where we  learned that she is sweet and affectionate cat, but isn't afraid to let you know when she has had enough attention.
ReRe likes to play with her toys, and will come and curl up in your lap—her way of demanding your attention.
Two months later, the Miller family was on the hunt for a new furry friend. Interestingly, ReRe formed an instant connection with their young daughter. This was quite the surprise given ReRe's past relationship with young children.
The Miller's decided that ReRe was the cat for them and adopted her into their family. Recently, they wrote to give us an update on how ReRe is settling in: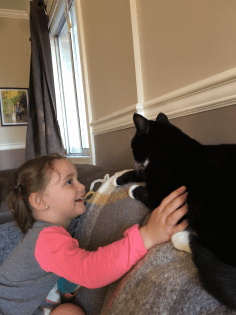 We came into our local branch looking for a fur baby to join our family. My daughter was instantly attached to ReRe.
My daughter said that ReRe's tail, which is short and crooked, makes her special. We brought ReRe home and she instantly roamed around, purring.
ReRe and my daughter have become inseparable. We are so thankful that she has allowed us to bring her into our family!
Thank you everyone from our local BC SPCA for making this all possible. We couldn't have asked for a better match.
Thanks from the Miller Family.
Thank you for recognising the love and companionship that ReRe had to offer and for choosing adoption as your first option. With your daughter, we know that ReRe has a friend for life.