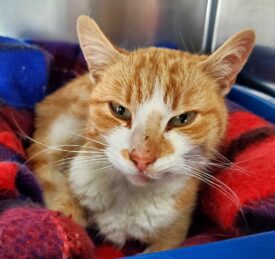 Get ready to see what love and care can do for a rescued outdoor angel.
Poppy was a true stray when she was brought to the BC SPCA Nanaimo Community Animal Centre on October 30, 2020 by a kind citizen who found this seven-year-old orange tabby on a property in Nanaimo. You can tell from the photo here that she was scraping out a rough existence in the outdoors.
Even though malnourished and emaciated, covered in wounds and full of parasites, Poppy readily showed her friendly nature and loved human attention. She was going to make a wonderful animal companion.
Staff matched Poppy to Lyn who initially fostered, then officially adopted her on December 22, just in time to make Christmas of 2020 a gratifying one for both of them. Read on to find out how Poppy is faring now, and prepare to be amazed by her "after" photo.
"Poppy was originally found abandoned in Nanaimo in 2020 and was rescued by the BC SPCA Nanaimo. She had no identification, no tattoo, no microchip or any indication that she had been spayed. She was severely underweight.
I had been looking for an orange cat, preferably shorthair and between the ages of five and nine years. So the Nanaimo shelter contacted me about fostering Poppy and I was happy to do that as a first-time foster parent. Within a few weeks, Poppy gained weight and became a beautiful and healthy cat (approximately seven years of age).
I officially adopted her in December 2020. She was my Christmas present and she settled in with me over the last year and has become a good indoor companion for me, especially during the pandemic situation when many of us went through isolation.
I would absolutely recommend checking out the animals at the BC SPCA that really need a good foster home and maybe adoption during these challenging times."
Look at the beautiful, contented Poppy now! Thank you Lyn, for choosing to adopt Poppy and for providing her with the loving home she deserves. May you both reap the rewards of this union for years to come.
Have you adopted an animal from the BC SPCA and want to share your joy with others? Submit your adoption story!