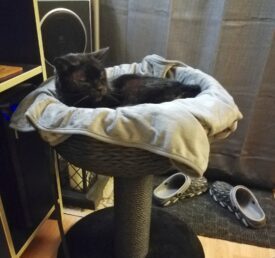 For us humans who have co-habited with cats in our lifetime, we understand that the purpose of our existence is to cater to the feline's every whim.
When Adrian felt the absence of a feline presence in his home in February 2021, he sought out a new friend to share his life with. That's when he saw Boo's photo online and met her shortly after at the BC SPCA Nanaimo Community Animal Centre.
Fortunately for Boo, her new guardian Adrian already had experience serving cats in his past.
Now, just a couple of months later, Adrian has written to us with an update on how Boo settled in, which was immediately, actually:
I live as a single bachelor and work from home. (In the past), cats have always seemed to "choose me"—a friend or co-worker would usually notify me of cats who needed a home. However, after the loss of my previous cat, and with the outset of COVID-19, I knew it was going to be difficult to simply come across another cat in need.
Naturally, I melted when I saw Boo's pictures, the poor thing. My lifestyle is perfect for a critter who likes to live solo (like a cat) to nestle right in and declare their new servant.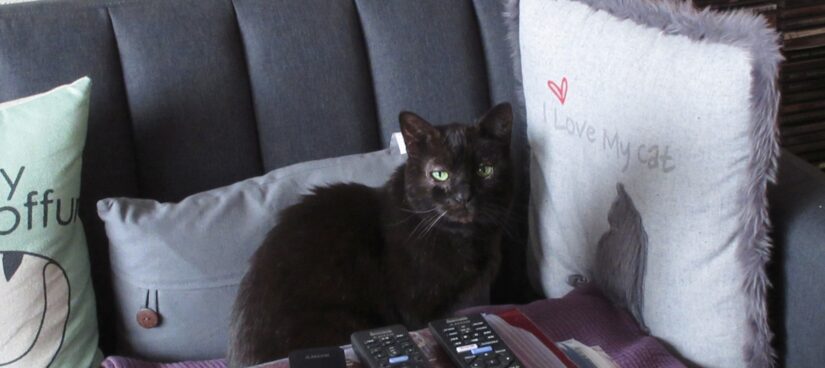 Boo wasted no time doing just that. I thought she was going to hide under the bed to adjust to the new domain, but she knew her palace as soon as she stepped out of the kennel.
She proceeded to saunter, prance about the place and claim what was rightfully hers—"that is my bed, that is my chair…"
The only challenge I encountered was how stubborn she was with declaring my MacBook Pro as her new bed.
I contemplated submitting a ticket to IT to request an additional $3,000 computer to become Boo's new bed, but I didn't think it would get approved. Thus, I decided to get the new bed stand with a heated shawl. She seems pleased with it.
I love this little beast. There is no love like unconditional love from your cat. Adopting her was the best decision I ever made.
Thank you, Adrian, for adopting Boo and for making her such a big part of your life. She looks so content in her forever home already. It sounds like Boo has fully chosen you to be her human. We couldn't be happier for the pair of you and wish you many happy years enjoying each other's company.
Have you adopted an animal from the BC SPCA and want to share your joy with others? Submit your adoption story!