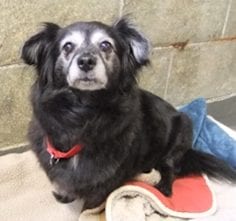 Sweet Olive, an 11-year-old Pomeranian/Dachshund mix, was found wandering around David Gray Park on August 4, 2014. She was taken to the BC SPCA Burnaby Branch, where staff attempted to contact her owner.
Her original owner never did come forward, so once she was spayed and her teeth and nails cleaned, she became available for adoption.
Olive was fearful and shy and living in the shelter was hard for her. But luckily, it wasn't long before she stole the hearts of a wonderful couple that came in to see her.
Olive went to her new home on August 13, less than two weeks after arriving at the shelter. Here's an update on how Olive is doing three and a half years later.
My husband and I adopted Olive in August 2014. When we first met her at the Burnaby SPCA, she was so cute!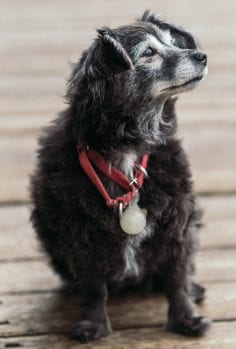 We could tell right away that she was an older dog, from the white fur markings on her face. But we took her on a walk that day and man, did she pull and run. So full of energy, she could've been a puppy. We fell in love and brought her home with us.
Olive is the sweetest dog and cracks us up all the time with her shenanigans.
Unfortunately, she was diagnosed with lymphoma in July 2015. She has since been under the ongoing care of our wonderful oncologist, Dr. Charney and has been doing very well. She has still been able to go on her walks, hikes, chase pigeons and enjoy the small things, like her favorite treat – cheese.
Since the diagnosis, Olive has been part of many milestones in our lives. She was the Dog of Honour at our wedding last year.
We feel truly blessed to have Olive as a part of our family. We have so much love for her. Thank you sincerely, to the Burnaby SPCA.
Your letter expresses the joy of adopting an older animal, wonderfully. We hope it inspires more people to consider a senior pet as their perfect fit.
We are so glad you've given Olive a second chance at a happy life, in a home where she is obviously so loved and cherished. We wish you many more precious times together.
Thank you for making adoption your first option.