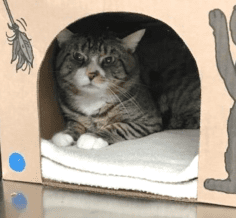 When adopting a new furry family member, we are often prepared for the fact that it will take some time for them to adjust and be completely comfortable with us.
Others just waltz on in like they own the place.
Mr. Tuxedo Pants happened to fit right in between.
When Joy met Mr. Tuxedo Pants at the BC SPCA Burnaby Branch in March 2019, she was immediately drawn to him. She saw so much potential in him and could tell he wasn't himself at the shelter, so she brought him home.
Several months later we received an update from Joy on how Mr. Tuxedo Pants has adjusted to his new life:
While staying at the shelter, Tux was kept isolated from other cats. He really didn't do well in the shelter environment. I was able to pat him, but once I got him home he hid from me.
Over the next 24 hours, Tux didn't use the litter box at all. I thought there was something wrong. I was folding laundry on the bed and worrying about him when I saw a little face poke up over the side of the bed.
Next thing I knew he was on the bed and holding up his paws for me to pick him up.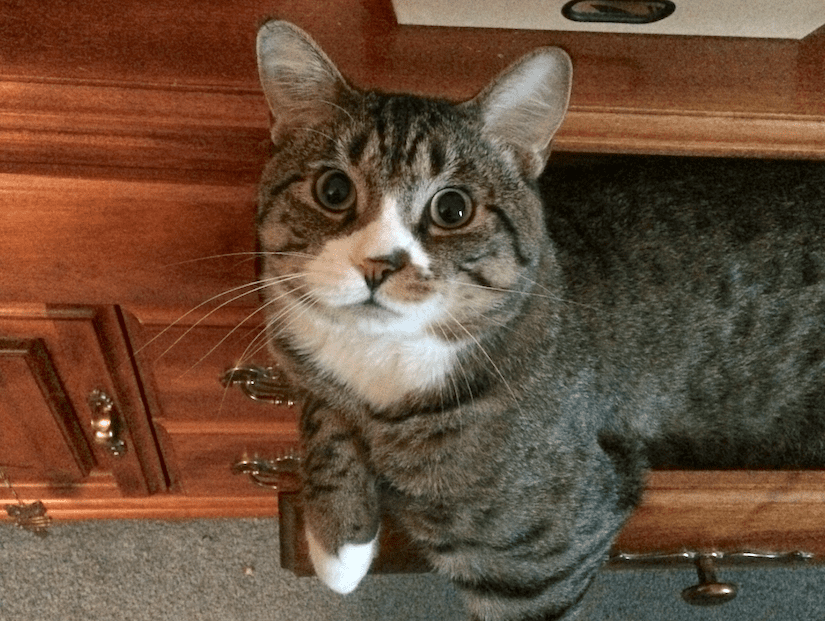 Tux loves to be held, carried around, cuddled and fed. He loves to be held in a position that resembles him lying on a tree limb. I think he spent a lot of time in that position before he was brought in to the BC SPCA.
Most of all, he loves his food. He was a thin little fella when I brought him home. Now, he is plump and thinks that I'm going to feed him every time I go into the kitchen. I have had to cut back on his food.
Tux has the rather annoying cat trait of knocking everything—literally everything—off of every surface. Glasses of water, remote controls, all my knitting gear—none of it is safe. When I go to give him heck, he gives me his, "I'm just a sweetie, Mom, and you know it" look. Naturally, I melt. 
Thank you, Joy, for choosing to adopt Mr. Tuxedo Pants and for giving him a new chance at a loving life. We are so grateful that you recognized Tux would be a wonderful companion once he was comfortable in his new environment. We can see just how much joy he has brought into your life ever since.
Have you adopted an animal from the BC SPCA and want to share your joy with others? Submit your adoption story!