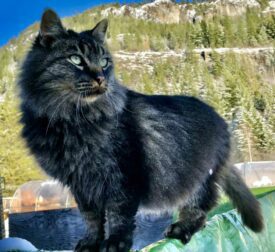 This regal beast was given the name Nathaniel when he arrived at the BC SPCA East Kootenay Community Animal Centre on January 8, 2022. He was free roaming, living on the property of a person who kindly brought him to the right place.
When Nathaniel arrived, he carried many of the conditions of an outdoor cat. He had inflamed ears and gums, matted fur and was dehydrated. He was nervous at his first examination.
As unsettling as perhaps his first close encounter with human handling was, his life was about to change for the better. He went into foster care for a bit before he was released to our shelter for adoption.
This nine-year-old was ready to be part of a family and he showed that readiness to his right match on January 20, the day he began his indoor life under a new name. Here is the story of Mr. Gibly now:
"My partner and I decided to adopt a cat after we had been cat sitting a friend's Maine Coon for over a month and I found myself very attached and sad when our house became petless again.
I have always owned cats and my current cat buddy lives with my family and I have had her since I was seven years old. After saying goodbye to our friend's cat, we began searching the BC SPCA for our future fur buddy.
We wanted a senior cat who wanted a happy, loving home to relax in and keep me company while I do my years of schooling. That is when we saw him, this big, adorably fluffy boy Maine Coon mix named Nathaniel at the time. The moment I showed him to my partner we knew he was perfect!
We made the long trek from Nelson to Cranbrook in the middle of a snow storm to meet him and the second we were in the room with him he was all pets and cuddles. Our hearts melted when we saw he had cute little curly belly hairs because my partner and I both have brown curly hair too.
We were told he was originally a street cat and were ready for him to be very independent and possibly not very affectionate. Boy, were we wrong!
The first night with us he crawled into our laps and passed out while snoring adorably. Ever since, he will take any and all opportunities to cuddle up near our heads or to frantically make biscuits on our chests.
Mr. Gibly, as we now call him, has changed our lives by bringing us all happiness and peace. We love to meow with him and have long chats, spin him on the floor and play a game of catch the feet.
Every morning he likes to swoop in front of your feet right as you're about to take a step so that he can try and trip you. He also likes to try and knock you over with his strongly affectionate head boops.
He makes us laugh every day and makes us feel so loved. I cannot imagine our lives without him now. His snuggles are what we look forward to all day long.
My advice for anyone thinking of adopting is to do it. My partner and I were worried that adopting when we are 22 was irresponsible but once we got him home we knew it was a good plan all along. If you can afford a pet financially, and can spend time with them every day then it is an idea worth doing.
Remember that the way an animal acts in the shelter is not always a reflection of how they will be with you. It is always worth giving the ones that need the help the most, like "scared" cats and seniors, the chance to prove to you how loving and good they are.
If you are also unsure about future living conditions, please consider fostering! That way you can provide a home for pets now but if something changes you are free to make the changes you need.
The saying "love conquers all" is a saying for a reason. What Mr. Gibly has taught us most and something we should all know is that when you adopt a senior cat you allow them to be a kitten again."
We echo your testimonials on fostering, adopting and the joys of taking in a senior animal. Thank you for making Mr. Gibly's life a safe, warm and happy one. We wish you all many joyous years ahead.
Have you adopted an animal from the BC SPCA and want to share your joy with others? Submit your adoption story!