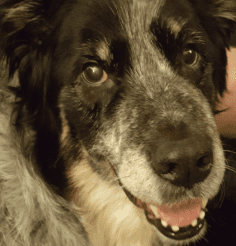 Back in 2007, Molly came into the BC SPCA Burnaby Branch. She had such a big heart and we knew she was going to give all of her love to the right family.
When Linda entered the shelter in October that year, Molly felt the connection. She immediately made it her goal to win over Linda's heart. It didn't take long for Molly to prove to Linda that she needed to bring her home.
Eleven years later, Linda has told us just how happy Molly has made her and would like to share her story:
Molly had been brought in to the BC SPCA Burnaby Branch as a stray. She didn't know any commands but she was so sweet and eager to please right from the start. Molly is very happy-go-lucky and loves everyone she meets.
In her old age, Molly has mellowed into the sweetest, most loving soul. It's a pleasure to care for an old dog who has given you a lifetime of love.
And it's our pleasure to know that animals who come into our care, really are adopted into their forever homes. It brings us great joy that you were fully prepared to commit to Molly for her whole life when you were looking to adopt her. Thank you, Linda, for choosing adoption as your first option, and for giving Molly a long life full of love and affection. Our pets really are a big part of our family.