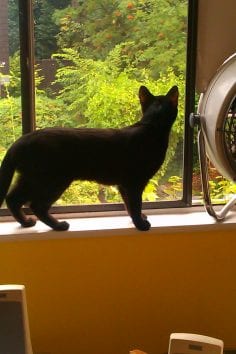 Like many of the animals who walk through our doors, Moonlight and Eevee came to the BC SPCA in July 2017, as the result of a cruelty investigation. Their young lives hadn't been great so far and they were well overdue for a loving forever home.
Fortunately, these two kitties didn't have to wait long. Less than two weeks after their arrival, their new family visited the BC SPCA Burnaby Branch and scooped them right up. Here's what they had to say:
One week after adoption, Moonlight and Eevee have settled in nicely. They are both bold, curious, athletic cats and our feather wand toy is a fun necessity.
I was warned by branch staff that Eevee was very vocal, but over the past week he has settled down; while he is definitely a chatty cat, he isn't constantly crying. I suspect some combination of factors, including having a second cat, making a point of giving him attention when he's resting quietly, and the twice daily half-hour intense play sessions with the feather wand toy have influenced that.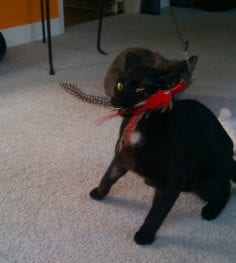 Tiny Moonlight is braver than big Eevee. She enjoys exploring  new spaces and people. Neither of them are lacking for curiosity.
Moonlight and Eevee get along very well, and they will share a patch of sunlight leaning against each other, grooming each other, and quickly figured out how to tag-team the feather birdie so they can catch their breath and get back into the game.
We are pleased to hear that both cats are settling in so well. Thank you  for making adoption your first option, here's to a long, happy life with Eevee and Moonlight by your side.
March 25, 2018 Update
Moonlight has claimed the softest pillow in the entire house as a nest to sleep in. She is the keeper of schedules and can be quite insistent when it's time for their bedtime feeding.
Eevee is definitely the higher maintenance cat of the two. Even with twice daily play sessions, twice daily sit down on the floor greetings, lap time, and another cat to play with, he will still start meowing nonstop about once a day. When he starts yelling, I get on the floor and take my glasses off and let him have his face-mashing time. As soon as that's done to his satisfaction, there's no more yelling for the day.
Neither of them particularly like being picked up for attention, but both of them will happily sleep on my lap, and if I stretch out on the couch with a book, I will have both of them pinning down my legs in no time at all. They're highly sociable and play well together. Exactly the kind of cats I was looking for!