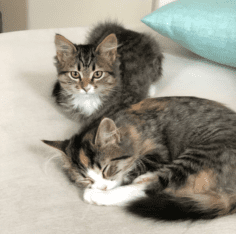 For many of us, our home feels more whole with four-legged family members as a part of it.
When Chelsea and her partner Dustin bought their new home in Mill Bay in 2018, they were ready to share it. Dustin already knew he adored cats, and it didn't take long to get Chelsea onboard, too.
And their timing couldn't have been better. The very day they went in search of two cats to adopt, two sweet, adorable kittens just a couple months old had been surrendered to the BC SPCA Cowichan and District Branch.
Several months on, Chelsea has given us an update to share:
Dustin and I purchased our first home in Mill Bay this past summer. He always talked about his cat he had many years ago and missed so much.
After much thought, I decided our new home was too big for just the two of us so I took him to the BC SPCA Cowichan and District Branch to find two cats who needed a loving home.
To our surprise, 45 minutes prior to our arrival, two kittens were surrendered due to having fleas. We were ushered into the back where we met these two little fur balls. Our hearts melted and we knew we had found our new fur babies.
We were initially going to name them Millie and Bailey (because of our home in Mill Bay) but I needed my cat's name to be Charlie regardless of gender. Quite honestly, Charlie suits her perfectly so Dustin came around to it eventually.
Several months (and pounds) later, we have the two most energetic and loving little cats we could have ever asked for. Millie is the more agile of the two and is incredibly curious. She loves to snuggle at night and has no problem laying on our heads and purring the night away.
Charlie was considerably more timid when we brought her home and preferred to keep her distance. However, she has morphed into the biggest cuddle cat ever. She purrs so loud we can hear her a room away. She loves belly rubs and fetching her toy springs.
Millie and Charlie both love their playtime and spending their evenings with us playing fetch, snuggling by the fireplace or wrestling tirelessly with each other. There's never a dull moment in this house with them around.
They are starting to realize they are too big to fit into some of the small spaces they used to be able to squeeze into but it's pretty comical to see them try!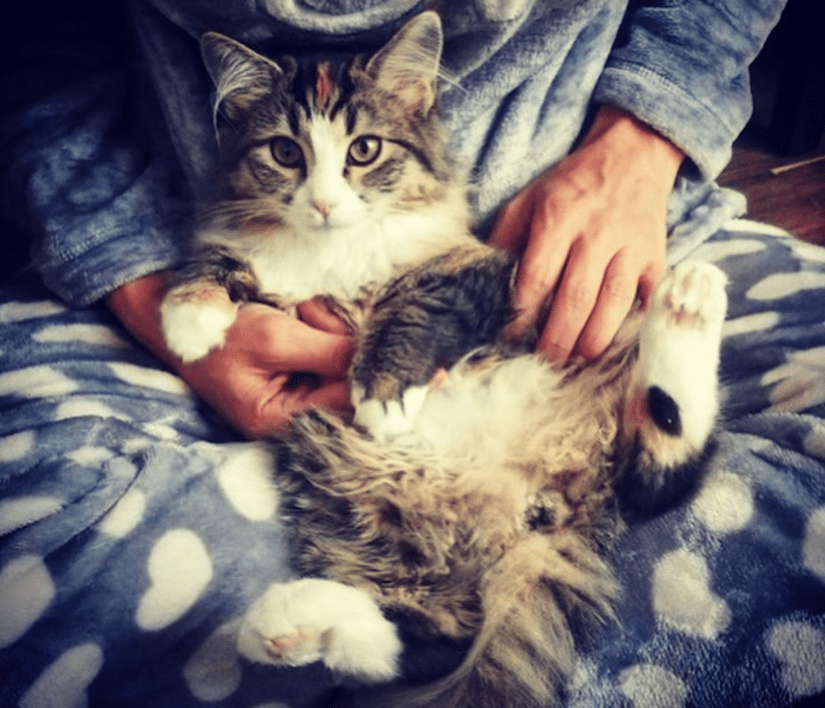 They also make the perfect backup alarm clock. Every. Single. Morning. At 5:00 am they wake us up with meows, purrs and nuzzles to let us know they're ready for breakfast. Many mornings we have to run downstairs to feed them only so we can catch a couple more winks.
We love them both so much and thank our lucky stars for that fateful day on September 8, 2018 when they came into our lives. Thank you, BC SPCA.
Thank you, Chelsea and Dustin, for adopting Millie and Charlie, and for opening your new home to invite more love into it. We can see that Millie and Charlie find just as much joy playing and snuggling with their guardians as they do with each other. We wish you so much more happiness watching these two grow up over the years to come.
Have you adopted an animal from the BC SPCA and want to share your joy with others? Submit your adoption story!