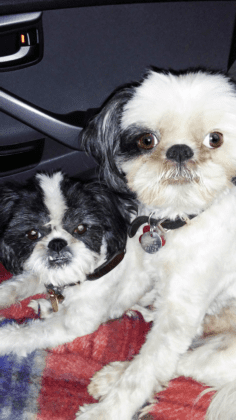 Max and Masako came to the BC SPCA Burnaby Branch as a pair of strays in July 2018. It was clear that they were very much bonded to each other, so it was important to find a home that could adopt them together.
Both of these Japanese chin mixes would do everything together and look to each other for support. To staff, it was clear that Max was the more confident of the two, while Masako was more reserved. They complemented each other perfectly.
It didn't take long before a woman named Pat heard about this dynamic duo and came by to pay them a visit, which quickly resulted in their adoption!
Pat wrote to share an update on Max and Masako:
I lost my last dog, a Mini Schnauzer, to cancer in June 2017. I knew I wanted another dog in my life, but decided I should allow myself a grieving period. I hadn't anticipated that it would take a year, but Mini Schnauzers are apparently in great demand these days, and none were available for rescue. I'm retired, and a puppy was not a possibility.
My friend knew I was searching, and sent me a photo of Max and Masako at the BC SPCA Burnaby Branch, asking if I might be interested. I visited the Burnaby shelter the very next morning and the rest is history.
Max and Masako are wonderful little companions, greatly loved by me and also by my friends at the dog park. I live in a basement suite in my friend's house, and she has also fallen in love with them.
A regular dinner guest of mine loves them too, and will be caring for them when I go on holiday next month. He brings his 15-year-old Shih Tzu whenever he comes for dinner, and they all get along very well.
Masako's name was Gizmo when we met. I hated the name, but understand how she acquired it, as she has a natural mohawk and a very pronounced under bite, no doubt because of her partial Brussels Griffon heritage. She is uniquely beautiful.
Max's round face is framed by white hair, giving him an apple-faced look, with especially big round eyes.

Max and Masako sleep on the bed with me. They have recently become less willing to eat absolutely anything I give them, and have developed their own little idiosyncrasies about where they want to laze around—Max chooses his bed in the living room while Masako most often chooses to sleep beside me on the couch.
Masako tends to be shy around bigger dogs, whereas Max is the "town greeter" with no fear of size or breed. They're both very obedient off leash in Mundy Park, where we see bears sometimes, but at Lafarge Lake, I have to hang on tight to their leashes whenever they see a squirrel. Max got adventurous the other day, ran into some bushes, found a pool of liquid dog poop and rolled in it! It was great fun driving home with him. Major shower time followed for everyone involved.
Max and Masako are best friends, always playing, running and wrestling with one another. I can't imagine them ever being separated.
Thank you, Pat, for adopting both Max and Masako into your life. They sound like ideal companions not only for each other, but especially for you. We love to see Max and Masako thriving in their new environment and loving home. We have no doubt that the love between all three of you will continue to grow for years to come.