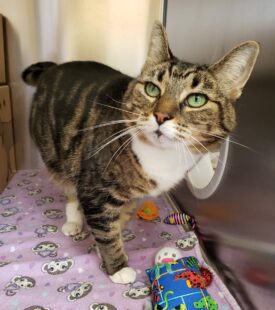 When we bring home our new feline companion for the first time, it could go one of two ways.
It might take weeks for them to build confidence and trust to come out of their hiding place. Or, they might immediately saunter around like they own the place—which, let's be honest, they certainly do.
For sweet Maddie, it was actually a mixed experience when she entered her new home with Britney in the autumn of 2020.
It has now been a few months and it sounds like Maddie could not be more content in her new home. Britney has written to us with an update:
I adopted Maddie in early October 2020. I had been looking forward to adopting a cat for a while.
When I saw Maddie's photo and description online for the BC SPCA Campbell River Community Animal Centre I knew she was the one.
Maddie was very shy at first. She was scared of loud noises and her unfamiliar setting, but I could tell she still wanted love and affection. Within an hour of being in her new home, she came out of hiding and approached me for pets.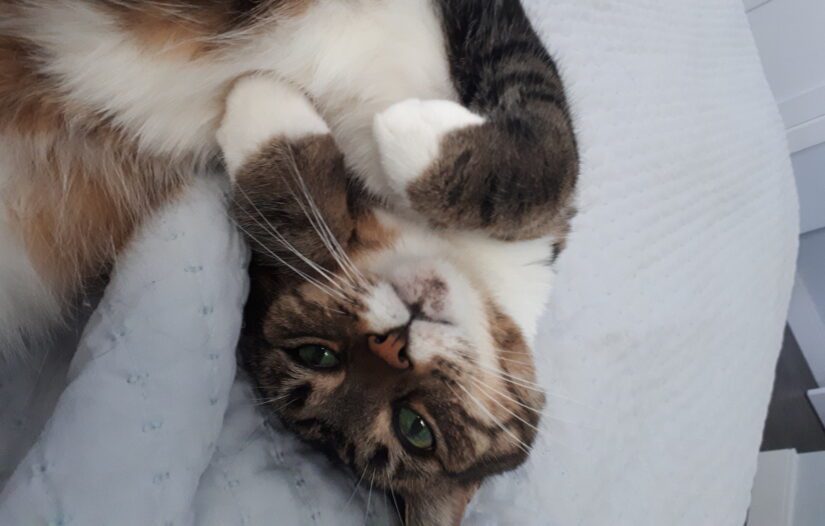 Maddie's confidence has continued to grow and her personality really shines through now. She loves belly rubs and meows at me until I sit down so she can flip over onto my lap and I indulge her.
The cat bed I bought for Maddie has been neglected this whole time because she is strictly a lap cat. If a lap is not available, she prefers to sleep on her blanket on the couch by the window like a true queen.
Thank you, Britney, for choosing adoption as your first option. We love to hear how well Maddie has settled into her new home and the lap of her forever companion. It sounds like the two of you have formed a true bond. We are thrilled that Maddie has found her belly rub provider for life.
Have you adopted an animal from the BC SPCA and want to share your joy with others? Submit your adoption story!