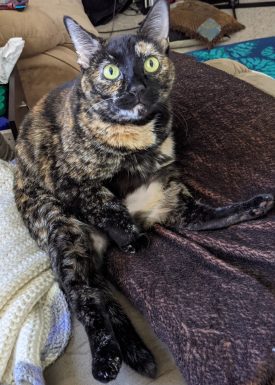 The companionship our pets give to us is immeasurable, so it's only natural that we want to share our lives with them whenever we can.
Erin and her family were devastated with the loss of their previous cat earlier this summer. However, they knew they wanted to open their home and their hearts to another kitty in need.
In July 2021, Erin found herself at the BC SPCA Campbell River Community Animal Centre, where she met Koko, a beautiful tortoiseshell kitty. Unable to resist Koko's charms, Erin adopted Koko and has been enjoying their time together ever since. A month in, Erin has written to us with an update:
"We were heartbroken when we had to put down our cat this summer. Adopting is so special that we knew we had another fur friend waiting for us—Koko.
Koko was so sweet when we first met her. She has only gotten more lovey-dovey since coming home with us. Although she is fairly independent, she loves giving us belly cuddles on the couch.
Whenever we're in the kitchen, Koko hastily makes an appearance to sing the song of her people. It's always food time, right, Koko?
She has a few funny habits, including dramatically flopping on the ground, anchoring her toenail in the carpet and attempting to sit like a human. She makes us laugh every time!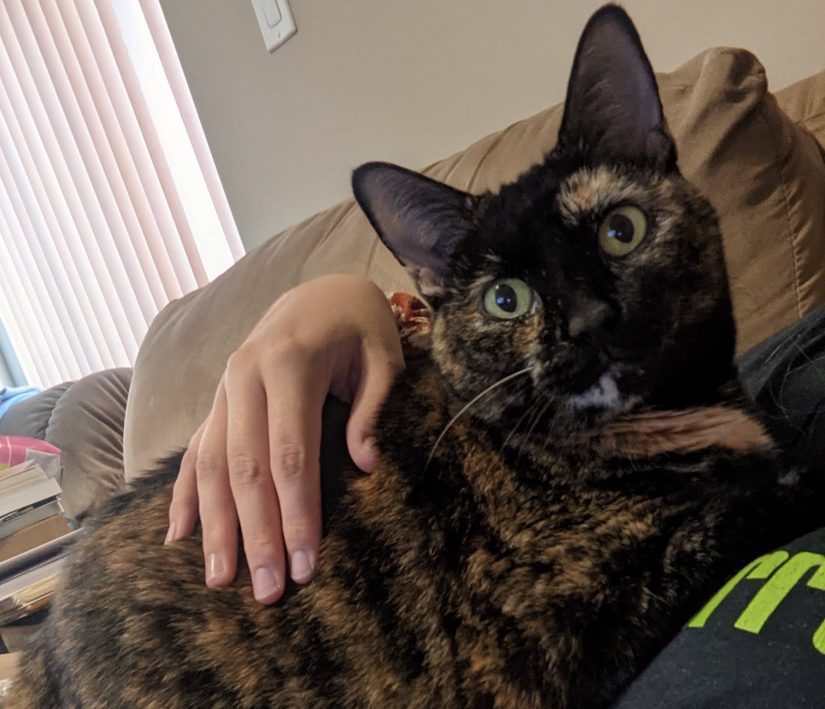 In case anyone was wondering like I was, 'torti-tude' is very real. Everything is on Koko's terms and Koko's terms only. We have learned her body language and know when she is getting irritated. She is not afraid to let us know when it's time for pets (hint: it's always time). Cue the head-butts.
Koko a total suck and we're so happy to have her in our lives."
Thank you to you and your family, Erin, for adopting Koko even when your previous feline's departure was still fresh. We know that Koko will forever be grateful to you for giving her a second chance at living her best life. We can't wait to hear about all the sass and affection Koko will provide you in return for providing her forever home.
Have you adopted an animal from the BC SPCA and want to share your joy with others? Submit your adoption story!