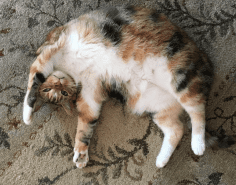 It's so difficult for us to imagine why anyone would want to abandon Lucy. We found her on the front doorstep of the BC SPCA Prince Rupert Branch in May 2018, and oddly, she was perfectly well groomed and immediately very trusting.
Once we knew she was healthy enough to meet potential adopters, we transferred her down to the BC SPCA Victoria Branch on the Drive for Lives program. Here, Lucy truly came out of her shell. She showed us how much she really loves attention and affection. We had no doubt this girl was ready to share her sweet, loving personality with a new family.
It didn't take long before Marianne and her family met and fell for Lucy. In June, they took her home and discovered just how well she fits in. We have already received an update from Lucy's adopters:
We adopted Lucy two weeks ago and we couldn't be happier. Lucy is a sweetheart—she has totally wrapped us around her paw.
She helps us read the paper in the morning (even if we have to read the same page many times because she is lying on it), she cuddles up to us when we nap (giving lessons on how to get the best nap) and watches TV with those of us who are night owls.
Lucy is a quiet and affectionate little lady until she climbs the scratching post—then she bats the toy mouse back to whoever she cons into standing there, throwing and fetching the mouse.
After our former cat of 16 and a half years passed, we were very sad and a little hesitant to adopt again. But, after a few months, we found that our house felt empty. Lucy has more than filled the gap in our hearts. She is in her forever home and we are happy to contribute to the BC SPCA to help you continue your good work.
Thank you so much, Marianne, Jim and Kathy, for choosing adoption as your first option. It's stories like yours that make it possible for us to do the work we do and help all the animals we can. We are every bit as delighted as Lucy is about her new forever home. It may only be the beginning of your life with Lucy, but we can see that you'll have many happy years to come.