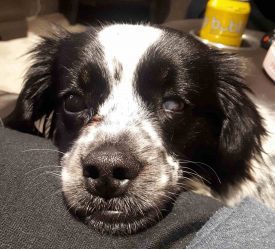 On March 11, 2021, over one hundred small-breed dogs were surrendered to the BC SPCA from a property near Fort Nelson. It took the combined commitment of the BC SPCA, including our Drive for Lives program, the fire department and the RCMP to get these dogs to several of our shelters for assessment, treatment and care.
Our efforts were aimed at giving each of these dogs a chance at finding a loving home. Louise, a Papillon mix, came in on Fire Truck 2. She was perhaps a year old at the time and though she was justifiably scared, she was sweet and friendly.
Like many of the dogs, Louise had matted, soiled fur and needed to be cleaned up. She also was blind in her left eye, had a misshapen and scarred left ear, discharge from her eyes and an underbite. This brave little girl had also recently birthed a litter.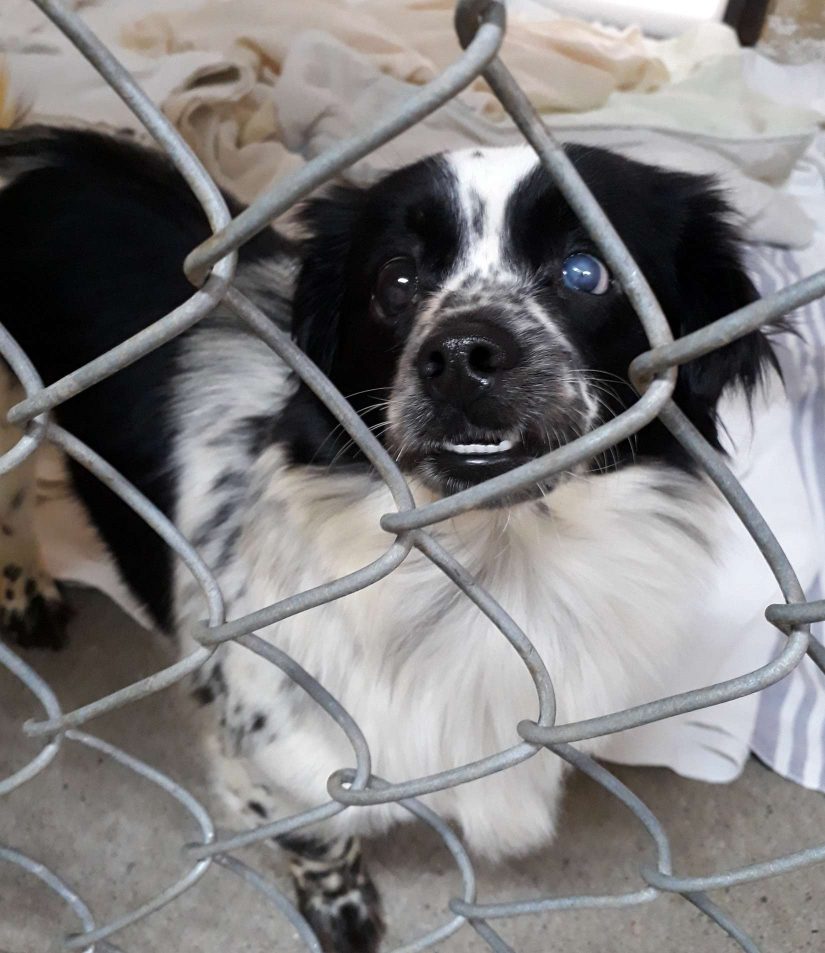 On March 25, she went into one of our caring foster homes while she received treatment and recovered from her spay. Here, she began her process of socialization that would allow her to be comfortable as a pet in a new forever home.
The lucky adopters took Louise home from the BC SPCA East Kootenay Community Animal Centre, on April 2, 2021. From that day, Louise's life began to completely transform into that of an eager and beloved member of a real family, who write us here:
Louise is part of the 119-dog surrender from Fort Nelson. She joined our family about a month ago, and we cannot imagine our lives without her. She's such a quirky and playful girl!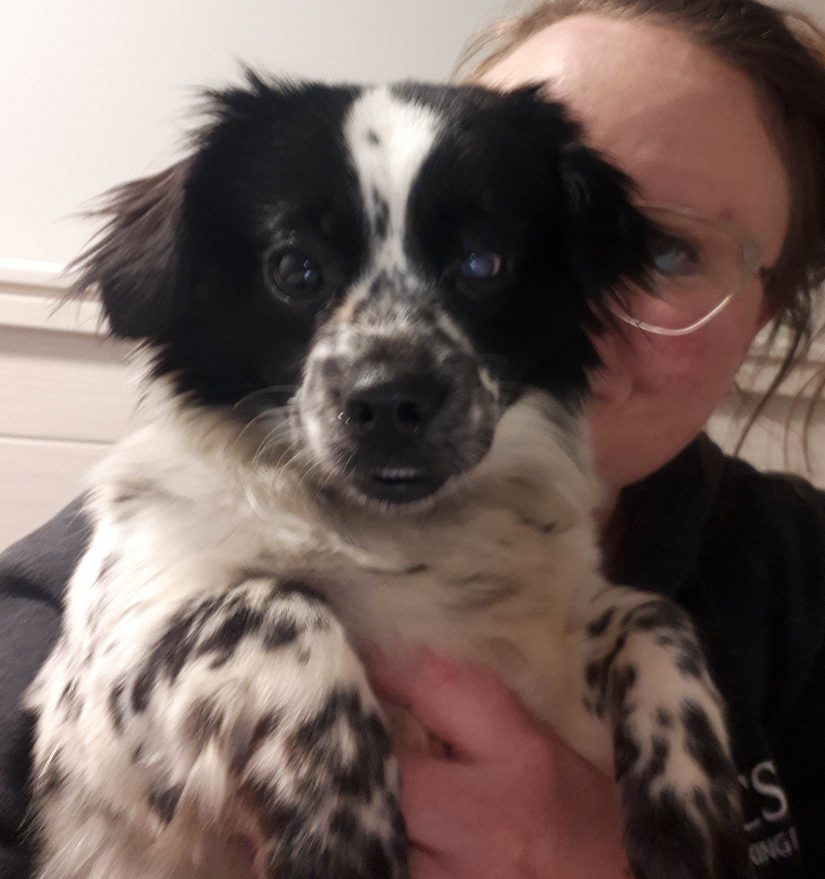 This past month was not without its challenges. When Louise first came home, she was uncomfortable with everything. As timid and under socialized as she was, she had the added challenge of being completely blind in one eye, partially blind in her other eye and deaf in one ear.
She had to work towards wearing a collar, then wearing a leash, a harness and eventually walking around the block. She was timid with us and wasn't house trained.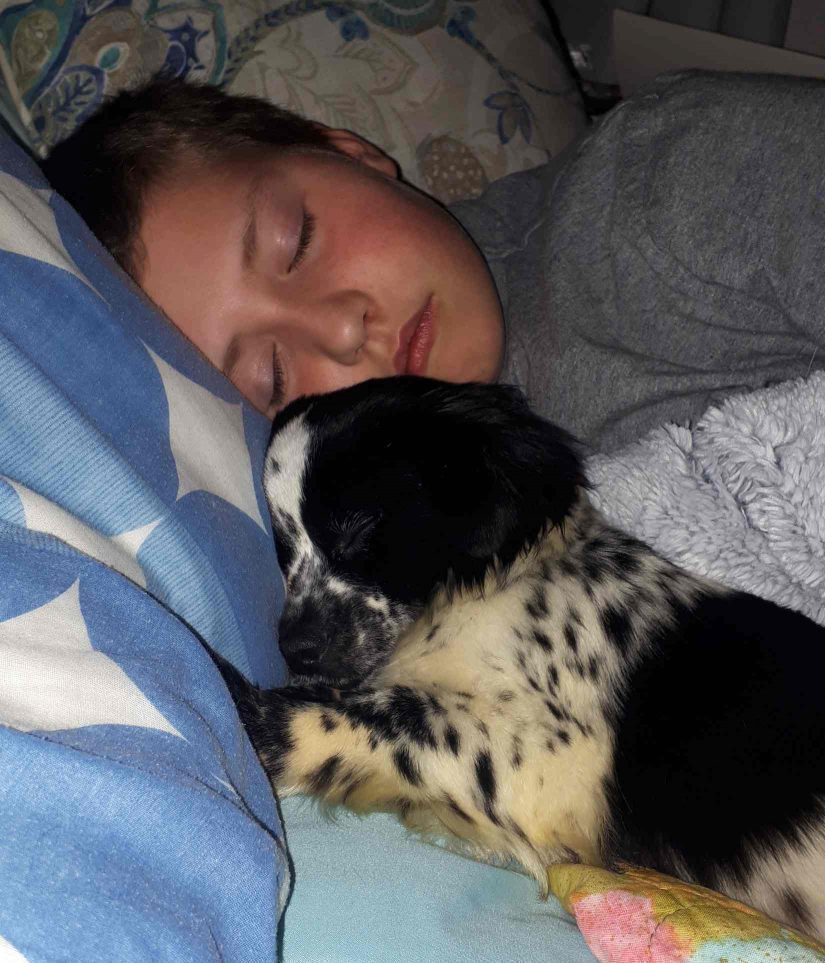 With a lot of patience, encouragement and love, Louise conquered all of these challenges! She is now thriving and trusts us completely. She insists on sleeping on my head at night, which is fine by me! I'll take all the Louise snuggles.
She is a champion on leash and has even completed her first hike. She's mastered the "sit" command and we're working on "down." She has discovered a love for toys and can even play fetch if we throw the ball past her partially sighted eye.
We're learning, with the help of her cues, about what works for her and how to help Louise live her best life. She's been such a gift to us and I am so tickled with how much happiness she brings.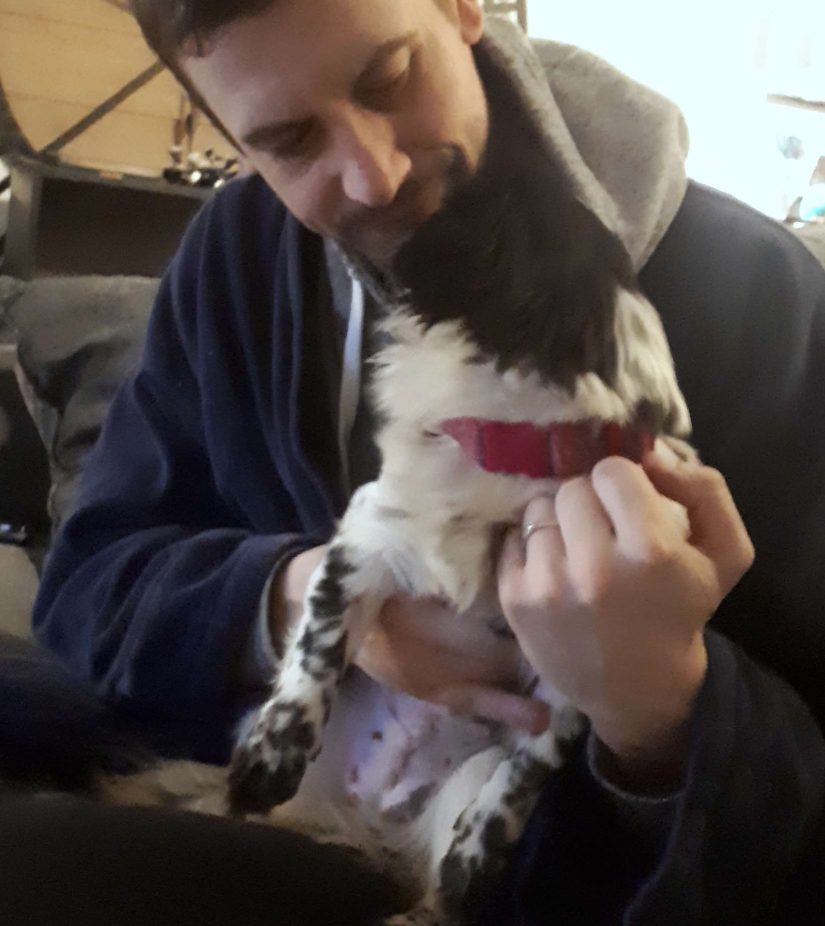 One of the most precious things she does is forgetting to put her tongue back in her mouth. She walks around with her little tongue tip poking out. It may be the cutest thing I've ever seen.
She just got a life jacket and we're excited to see how she feels about taking some paddles in my kayak with me. She's a big fan of the dog park and has just started going jogging with her dad. She walks with her Grandma at the bird sanctuary every day. Her human sister likes to bring her for walks in the field across from our house.
She's gaining so much confidence with each passing moment and she's surpassed so many things that we weren't sure she would ever be comfortable with. Words can't quite express the feeling that we have for this gentle girl and how treasured she is. We will forever be grateful for having her in our lives and family.
It would be pretty hard to imagine this darling girl having been matched with a better family. You really have shown her the love she may never have known had you not found your way to each other. Thank you for choosing to adopt.
Have you adopted an animal from the BC SPCA and want to share your joy with others? Submit your adoption story!
Help save animals like Louise, donate to support animal cruelty investigations.